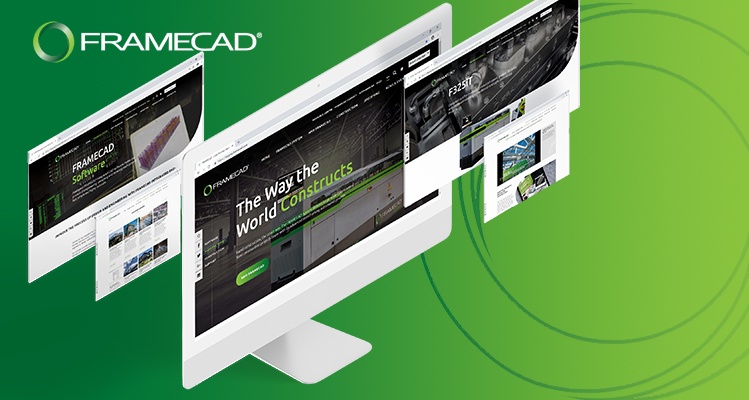 Leading the Way in Innovation for Cold Formed Steel, FRAMECAD are Proud to Announce their New Website
Modern-era construction tests every known limit of ingenuity, efficiency, and quality. And, over the past 30 years, FRAMECAD have risen to meet that challenge.
FRAMECAD provide the most thorough, refined end-to-end methodology for building with Cold Formed Steel (CFS). With our advanced software, precise manufacturing systems, material supply, and customer support via our comprehensive training and global network of experts, construction businesses across the world are producing breakthrough results.
As part of our continued growth, we are proud to announce our new website — the latest element of the global CFS construction ecosystem that is FRAMECAD.
The new FRAMECAD site is focused on you, our valued customer. Within, you'll find everything you need to understand, use, and get support for the first-class FRAMECAD system as you build with Cold Formed Steel... along with a few extras that add value to the experience. Here are some of the upgrades.
Enhanced user experience
The new site is not only exceptionally easy to use, it comes with several new features to help you achieve excellence in CFS construction. Features include:
Easy-to-locate software, manufacturing equipment, specification information and support services. Our new Resource Centre gives you immediate access to brochures and technical manuals for the FRAMECAD system and services. Discover why FRAMECAD is the world's leading end-to-end system for CFS construction,
Access to previous webinars and informational videos, enabling you to review crucial learning materials and stay up-to-date with the latest technical and practical advice from FRAMECAD.

Easy access to sub-assemblies and compliance information. You'll have an easier time specifying wall frames, roof trusses, framing and other structural components. And, since FRAMECAD products are certified, and our system is fully compliant with global industry standards, we make it easy to ensure your projects are on track for local compliance and approval, wherever you are. 

The ability to save your favourite case studies, flyers and products in the Resource Centre. With this feature, you can quickly reference information you'll want to return to, including successful FRAMECAD-supported projects that could inspire new directions for your business.

Detailed manufacturing equipment specification and capabilities information, to help you fully understand what manufacturing equipment is suited for your business objectives, whilst comparing each piece of equipment against other options.
An improved FRAMECAD Connect customer profile page layout, providing better access to FRAMECAD's exclusive customer network of expert designers and builders. As a FRAMECAD connect member this is your chance to showcase your capabilities to the world.

Quick one-click access to the MyFRAMECAD Portal. Right from the top menu of our new website, you can securely access you business performance tools and maintain manufacturing efficiencies.
Our industry-leading software packages — including FRAMECAD Structure and Detailer, are helping construction businesses build with greater efficiency and accuracy.
Now, through our new website, our engineering and detailing software is available for trial for those wanting to learn more about how FRAMECAD is the way the world constructs.
There's no better way to gain insight into the versatility of CFS construction than to see examples of completed projects and unique applications.
Through the new FRAMECAD web presence, you can see examples of successful CFS buildings and structures first-hand, allowing you to visualise your finished product.
Stumped about any aspect of building with CFS? Need a quick answer? Our FAQ section will be there to assist you. You'll come across our answers to the most common questions and concerns regarding construction with CFS.
And, should you need more personalised support, reaching out to FRAMECAD experts is still just a click away.
The perfect support and educational portal for the FRAMECAD Process and Cold Formed Steel Construction
New construction methodologies can be overwhelming. As part of making the FRAMECAD Design-Led Process more accessible, we've focused on building out a more functional, informative, and easy-to-use website.
We're excited to share all the technical and practical knowledge, along with our world-class personalised support, for your next CFS construction project to be a success.
Visit FRAMECAD today and start discovering the Way the World Constructs