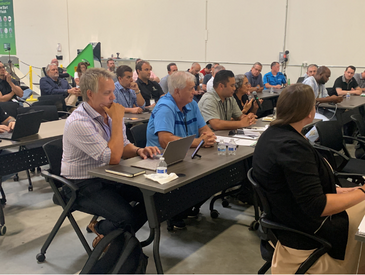 Growth happens when we come together, listen, understand and put into practice what we've learned from each other. That's what we witnessed at FRAMECAD's Customer Network Summit in Las Vegas, Nevada, last month, and that was our simple vision from its inception – to connect with customers, display our genuine care, and that we're sincerely listening, whether it's rave reviews or opportunities for improvement.

56 customers joined us on September 13-14, 2023, for presentations on customer success, software and equipment updates, new products, Q&A's, customer highlights and the incredible stories of how they're using FRAMECAD to change the industry and at large, the world. Attendees had the treat of hearing from experts across the industry – from David Del Monte of Orlando Steel Frames discussing lean manufacturing to Hector Nieto of USG Mexico introducing Structo-Steel.

Amidst the backdrop of demonstrations and conversation lies the true power of these two days in the desert – the built connections and community. This wasn't by accident. In the very nature of FRAMECAD, is the framework for a network. The people that participated truly responded to this desire. It just so happened, it's their desire too.

"The FRAMECAD business is really to create the world's biggest network of people using a common platform for steel framing. The challenge with new technology is if you're just using it in isolation, it's hard to get traction. The more we work together as one team and one FRAMECAD and the more we collaborate, the more successful we'll all be," said our founder, Mark Taylor, during the opening of the event.

What followed were three fantastic highlights across the next few days—a session, an industry update, and a customer filling a significant need in the world of cold formed steel (CFS). If you missed the event, we'd love to invite you into these special revelations.