Background

Recent requirement changes around flood and bushfire zones mean that timber can no longer be used for these projects. With the additional benefit of speed of construction being a major factor when it comes to winning contracts in the Australian construction market cold formed steel (CFS) framing is the obvious choice.
Coming from a family of traditional builders James Logue recognized that steel framing has a firm place in the industry's future. James spotted a gap in the market and the opportunity to set up a cold formed framing business, partnering with Ben Sutton who has complementary skills with his background in manufacturing. With 33 years of experience between them, the decision was made to invest into FRAMECAD systems and True Blue Steel Frames was born. FRAMECAD was chosen over the competition due to its superior system design, industry knowledge and experience in helping companies transition from wood to steel frames.

Managing Director, James said, "FRAMECAD provided a lot of information upfront while we were considering setting up the business, this really helped. We have had really good communication and support throughout the whole process."
Growth

Since January 2019 True Blue Steel Frames have designed and fabricated cold formed steel wall frames, trusses and floor joists for small-medium residential builders across Sydney and the Southern Highlands of New South Wales. They started with a team of 3 employees which became 5 within the first month and grew to a team of 18 within 3½ years with a turnover of millions per year.

James found the move to CFS framing smooth with the focus being on producing frames rather than whole houses. The business quickly established an excellent reputation for high standards and good service and soon built a repeat customer base. More recent growth has come from timber shortages this has forced builders to try steel frames for the first time. Once they have used steel framing they are converted, and it no longer makes sense to use wood.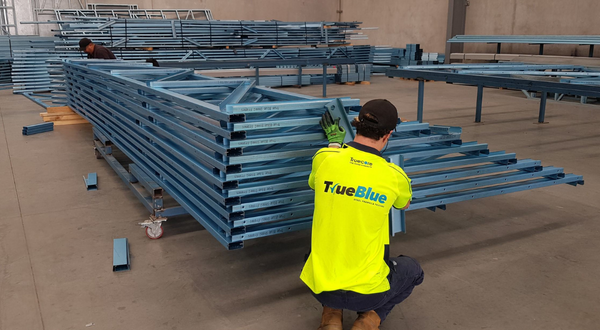 The public are seeing the benefits of using steel framing as it has featured regularly on TV on 'The Block' series over the last 5 years and they are starting to request it from builders. Using steel framing also offers some design advantages over timber. Wet areas like bathrooms are often tiled and owners prefer to have a smooth floor transition from the shower to the adjoining rooms. Steel floor joists offer the design flexibility to enable a recess or reduced level in floors in these tiled areas. This enables the wet area floor systems to be installed at the same level as the rest of the floor for a clean design and smooth finish underfoot. James sees the straightness of cold formed steel as the biggest benefit.
Growth summary:
Factory size: 1,100m2
Yard size: 8,000m2
Technology: x2 FRAMECAD's F325iT system
Profiles: 70x50 and 90x40
Output: 2500-3000Lm per day
Steel tonnage: 65 tonnes per month
Workforce:

Day shift + night shift

Materials supply: TRUECORE® Steel
FRAMECAD and the system
James said "FRAMECAD is brilliant. The machines are very advanced and straight forward to use. The technical support is fast and accurate. We are thrilled that we chose to align with FRAMECAD. There is always plenty of support if we have any questions."

"FRAMECAD really understands our business and software design improvements are made regularly that are relative to their customers' needs."

Design Stage

True Blue Steel Frames have an in-house design team who use FRAMECAD Structure and Detailer. They see the design stage as the most important in the process. Precision and accuracy here run through the entire project, into production and onto the site.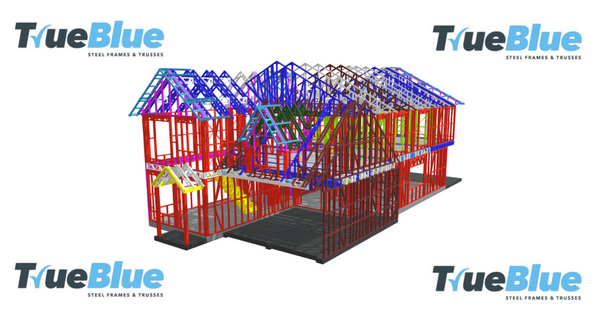 "The software is user-friendly. FRAMECAD updates it frequently and makes continual improvements." Stated Dennis - Head of Detailing.

The company runs x2 shifts 5 days a week. The machines run from 7 am until midnight with 6 men on each shift maximizing the ROI on their investment. This is measured from the output by the linear meter (Lm) per day, week and month.



The Future

James sees an increase in the popularity of using CFS framing across the industry and sees technology as the key driver. He said, "I believe we'll see an increase in popularity as builders and homeowners realize the benefits that cold formed steel frames can offer. In 10 years, I predict we'll see cold form steel framing being the preferred choice over timber frames. It's already the preferred choice for commercial construction and government works, which eventually filters through to the residential market. As education on the topic expands, we'll see engineers more comfortable with steel framing and start specifying steel solutions over timber. Carpenters are now learning about steel framing in their courses which will lead to more capability for future installations."

"It's good times ahead!"


---
*This article was originally published on August 26 2022 and has since been updated.