In many of our blog posts, we show how quickly mid-rise buildings can be constructed using cold formed steel (CFS). CFS construction directly addresses many of the issues encountered by owners, developers and other stakeholders engaged in building mid-rise projects.
The precision of CFS is important in the construction of mid-rise buildings as even the smallest of inaccuracies can cause undulation in the framing as the building grows taller.
"With everything prefabricated to millimetric precision, there's no need to cut and adjust on site – the cold formed steel arrives ready to go."
What is required in the construction of Mid-Rise building with Cold Formed Steel?
Regulatory standards for CFS will vary depending on geographic location, as local regulations and environmental factors such as seismic, wind and snow loadings can play a part on the structural requirements.
Typically, mid-rise external structural framing will be formed from steel with a gauge (BMT) of between 1.20-1.60mm (16 - 18ga). As construction moves up the levels, it becomes possible to also decrease the gauge to facilitate further cost savings.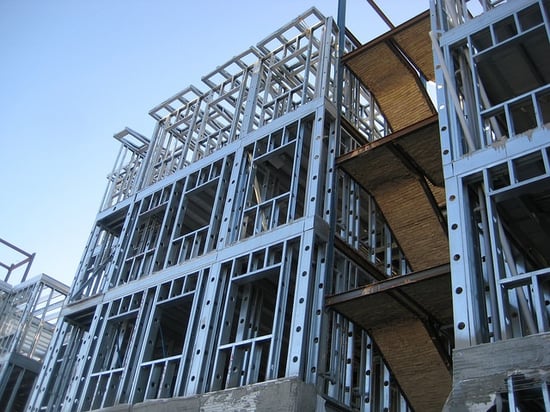 For internal walls the framing can be scaled back to a 22 gauge (0.75mm) profile, weight loadings, height, and seismic conditions will determine the stud center distances and any bracing requirements. Utilizing insulation, resilient channels and gypsum plasterboard a variety of UL fire and acoustic assemblies can also be achieved ensuring a comfortable STC rating for the occupiers of the building.
An engineered web joist allows for easy service access, larger spans without load bearing internal walls, greater Impact Isolation Class (IIC) performance and greater thermal resistance. And this can be manufactured on the same FRAMECAD F450iT as the other internal and external framing options, provided huge production efficiencies.
FRAMECAD F450iT manufacturing system - now updated for greater precision & versatility
FRAMECAD® has created the world's most efficient design and manufacturing technology for steel trusses and frames. The F450iT system is the intelligent solution for organizations desiring to deliver large scale production and projects. It uses FRAMECAD® patented technology to give a smart lean design, engineering and fabrication process.
And now the F450iT has been enhanced to deliver even greater precision and manufacturing flexibility. With adjustable lip box built in, this industry-leading system now offers improved ability to change over between C & U profiles faster and easier. This updated functionality provides significantly improved production of roof trusses, and wall and floor joists, offering more efficient productivity for your factory.
Watch the FRAMECAD F450iT product video:
The F450iT offers wider range of profiles from 3" - 6" (75mm - 150mm) wide, in steel up to 22 - 16 gauge (0.75mm - 1.60mm) thickness allowing for more flexible production options.
This makes it perfect for multi-level residential and commercial buildings projects.
Additional product features:
High line speed up to 7,090ft/hr (2,160m/hr) results in the industry's best framing and truss manufacturing output

Unique roller gang design manufactures precise profiles of a high engineered standard for more accurate assembly

Up to 12 advanced precision punching functions for high productivity and versatile components production

Includes hot climate hydraulic cooling system for high temperature operating environments

Smart internet connectivity provides cloud-based data reporting to enable real-time production management and technical diagnostics to improve efficiency.
F450iT System specifications:
Description

FRAMECAD Frame & Truss plant

Design software options

FRAMECAD Structure & FRAMECAD Detailer

Machine control software

FRAMECAD Factory 2

Number of Profiles

1xC & 1xU

Profile Width (Web)

Range 3 - 6" or 75mm - 150mm

Profile Height (Flange)

Range 34 - 50mm or 1⅟₃ - 2" (Boxable s

ection recommended)

Material Thickness

0.70 - 1.60mm (22-16 gauge)

Roll Forming Stations

17 auto gauging stations

Punching Stations

12 + 8 frame & truss punching stations

Standard Punch Tooling*

Service Hole, Web Bolt Hole, Dimple, Web Notch, Chamfer, Lip Cut, Flange Holes (left & right), Swage, Shear. (options to add Flange cut left and right)

Max Line Speed

7,090ft/hr (2,160m/hr)

Typical Production Speed (actual dependent on framing design)

Joists: 985ft./hr (300m/hr)
Walls: 2,300ft./hr (700m/hr)

Main Drive Power

10hp (7.5kW)

Hydraulic Power

7.4hp (5.5kW)

Hydraulic Reservoir

17 gal (80L)

Ambient temperature

32-104°F (0-40°C)

Length x Width x Height - to top of covers

14.76ft (4.5m) x 2.65ft (0.8m) x 3.95ft (1.2m)

Approx. Weight

4,837lb (2,194kg)

Mains power supply

400VAC, 25A

Printer

2 printer heads

Decoiler Capacity

6,600lb (3,000kg) powered decoiler

User Interface and Connectivity

21.5" Touch Screen enabled with Mobile, Wi-Fi & LAN internet connectivity.

*Subject to customer System specification. Due to FRAMECAD's ongoing innovation, system specification may change.
A full F450iT specification sheet can be downloaded here.
A continued focus on quality and innovation
All FRAMECAD equipment including the F450iT is designed, manufactured and quality assured in-house by our expert design and mechanical engineers. This ensures all FRAMECAD equipment meets our very high standards and tight tolerances and provides FRAMECAD customers the certainty that what is designed will be constructed.
In addition, developers, engineers and contractors can hold assurance knowing that the FRAMECAD® software and manufacturing systems are precise and thoroughly tested throughout FRAMECAD's vigorous Quality Assurance program.
Structural CFS assemblies constructed using the FRAMECAD system meet more regulatory standards globally than any other CFS system available. Because of state-of-the-art software like FRAMECAD® Structure and FRAMECAD® Detailer, engineers and designers can exercise a great degree of flexibility, to meet the demands of 21st-century construction — especially when it comes to larger multi-level buildings, industrial buildings, and large residential housing projects.
For more information on the F450iT, details or a quote, talk to one of our experts today.
Editor's note: This blog was originally posted in August 2018, and has been updated for accuracy and completeness.
For more information about FRAMECAD check out our latest video.