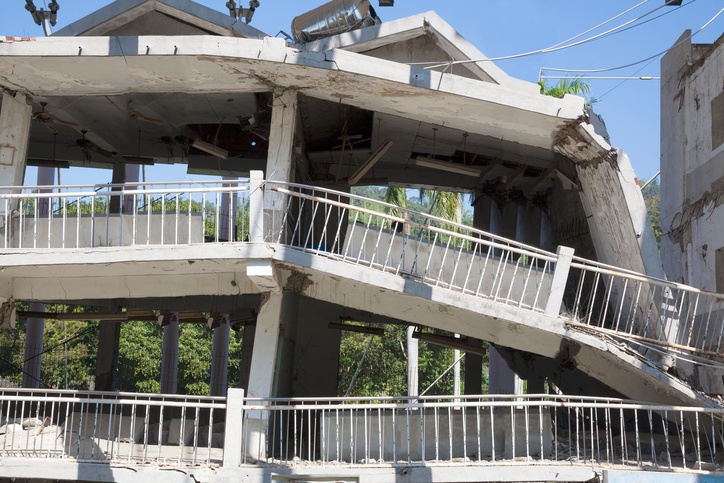 When an earthquake strikes, poorly designed and constructed buildings are a major contributing factor to the eventual size and scope of the catastrophe. In many ways, it can be said that it's not earthquakes that cause human injury and loss of life, but rather it's buildings that are designed and built with poor strength and resilience.

In this post, we're going to explore how the best way to save lives in areas of high seismic activity is in fact to design structures that can withstand serious shakes, with the ideal solution being a Cold Formed Steel construction method.
With the right design, engineering and build process, such as the FRAMECAD CFS System, resilient buildings are designed using specialised computer aided design and engineering software and manufactured by rolling or pressing steel into semi finished or finished goods at an ambient temperature.
FRAMECAD Structure software, a powerful Computer-Aided Engineering (C.A.E) package is used as a large part of this process and includes multiple earthquake codes to optimise building designs to construct buildings in earthquake zones. This also enables to speed up the specification and compliance process.




In September this year, Mexico experienced two major earthquakes within two weeks of each other. The second quake struck only 650 kilometres from the epicentre of the first, and combined they caused death toll close to 500.

While two earthquakes in quick succession in the same country may sound rare, scientifically speaking this is no surprise at all - both quakes are the result of the rupture of fault lines within the North American tectonic plate.

Scientists are saying that Mexico City itself is especially prone to earthquakes because it sits on an ancient lake bed. This means the ground and soil underneath is soft and wet, a feature which exacerbates earthquake activity as the surface becomes like jelly on a plate.

After the Mexico quakes, Sydney University of Technology Associate Professor of Geotechnical and Earthquake Engineering Behzad Fatahi said in an interview with CNN:

"Earthquakes do not kill; but inadequately designed and poorly constructed buildings, infrastructure and lifeline systems can. The best way to save lives is to design structures that can withstand earthquakes and retrofit old buildings to fit the code."

CFS: the ultimate construction method for seismic regions

CFS has been proven to be a safe and effective building material that can withstand earthquakes to a magnitude of 9 on the Richter scale.

This is because :
- steel absorbs energy. Unlike concrete and masonry, ductile steel bends without breaking. The same material that absorbs energy in a car crash also provides benefits in an earthquake by dissipating its force, ultimately making it less likely they'll fail and collapse.

- steel is lighter. Heavier structures have greater inertia: when the ground starts to shake, they want to stand still; thus greater forces are imparted into heavier structures in earthquakes. Steel is lighter and more elastic than its structural equivalent in wood, concrete, or masonry.
-steel is consistent. Steel does not have a weak direction or grain and is not reliant on water-cement ratios for strength.
FRAMECAD CFS sections are also very securely connected, using screws. Steel framing has a predictably consistent load path. Steel does not have corrosive chemicals or moisture that can corrode or degrade connectors or fasteners.
For more information on what makes CFS technology so suitable for construction in seismically-prone regions, check out this blog which we wrote in 2016, that features several impressive case studies about the performance of CFS structures in major shakes, both natural and in a controlled testing environment.

CFS construction using the FRAMECAD system is the ultimate answer to safer construction in regions of regular seismic activity.

As was seen in Mexico recently, poorly designed and dated infrastructure plays a significant role in the impacts and effects of a major earthquake. With a high strength-to-weight ratio and non-combustible state, CFS is a material that can raise the possibilities of saving lives and keeping buildings standing during earthquakes.