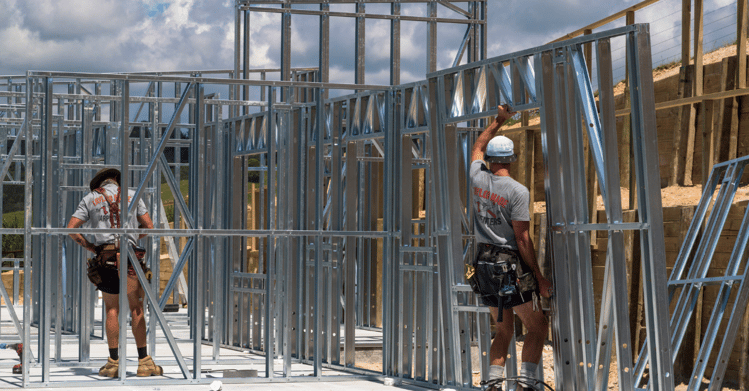 With many building projects now switching from timber to steel for their structural framing, it's important to understand the differences in the construction process that follows using either material. You'd be reassured to know that the differences aren't substantial.
The construction process after using either steel or wood frames follows the same construction methods, however, the key difference lies in the tools used to fasten the exterior and interior sheathing to the frame.
Exterior Construction
If wood is used for the structural frame, the exterior sheathing is usually attached using typical nails or screws. However, a regular nail or screw won't provide a strong enough hold to a steel frame as it is more rigid than wood.
Attaching exterior sheathing to steel framing requires specialized tools and fasteners such as knurled shank nails. These nails are specially designed fasteners with a spiral pattern and a sharp point. The nail is fired at high speed into the steel, and the spiral pattern allows it to grip the steel as it expands and then contracts, creating a secure attachment.

Interior Construction
With interior construction, the process is also similar for both steel and wood framing. If timber is used for framing, threaded sharp point screws can attach to the chipboard or gypsum board. However, in steel construction, you must use self-tapping screws. These screws have a unique design that allows them to tap threads into the steel as they are being screwed in. This ensures a tight and secure hold for the chip or gypsum board.
Installing interior electrical, plumbing, and insulation systems remain similar for wood and steel frames. Proper tools and training are essential for a successful steel framing construction process. FRAMECAD manufacturing equipment allows for accurate, quick cuts and steel framing designs.
Summary
While there are slight differences in the tools and fasteners used for attaching sheathing to steel and wood framing, other construction principles remain the same. Building with cold formed steel framing may seem intimidating initially, but with the right tools and knowledge, it can be just as straightforward as building with wood.
At FRAMECAD, we simplify the construction process by offering support, tools, and expertise for steel-framed projects. Our innovative technology aids in designing and manufacturing structures for any purpose.
Don't hesitate to reach out, our team will guide you through the process, making your dream project a reality with cold formed steel framing.
---