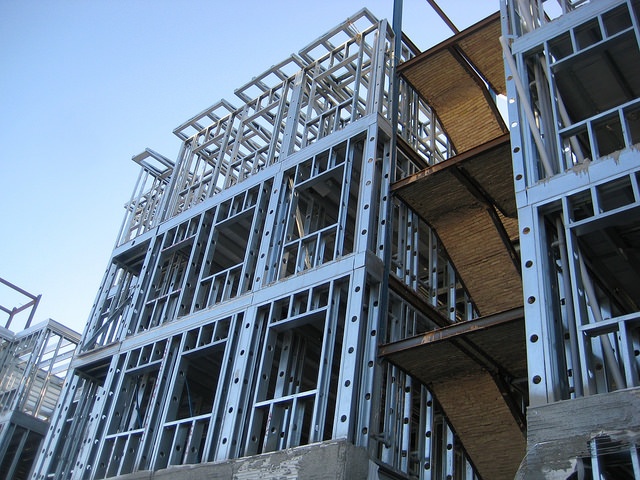 The World Steel Association have recently published a report titled the Comparative Study Of Light Steel Framing, Hotrolled Steel, Concrete And Timber Residential Solutions – Structural Performance. This report aims to provide unbiased information and resources to all stakeholders involved in the construction sector. It details the strong and weak points of various structural solutions using different structural materials within the scope of low-rise (up to 4 storeys) multi-storey residential buildings. This has been conducted to help developers and building owners to make informed choices when selecting the structural material for their buildings.
The main goal of this study was to compare different structural materials, assessing their performance. This whole study was based on a residential, four storey building adopting a light steel framing solution, built in Luanda, Angola, modified as appropriate to match European requirements and design practice.
This benchmark study compares the light steel framing solution with hot-rolled steel, reinforced concrete and timber solutions for residential buildings, all designed according to the relevant Eurocodes
The light steel framing building comprised of load bearing walls, fabricated using lipped channel profiles, and truss floor joist evenly spaced. The wall studs were also spaced at 600 mm. In specific locations this building is also strengthened with some hot-rolled steel frames to resist lateral loading. A composite floor with profiled steel deck was employed with a raft foundation.
This report also emphasizes the advantages of prefabrication in the building construction industry as it has a lower impact on the construction site and its surroundings. It also reports that steel construction has higher potential and inherent added value in terms of adaptability and expansion.
Lightweight solutions also provide for faster construction and additional cost savings. For instance, the reduced number of on-site works lead to lower waste and lower disposal costs, as well as to increased safety levels for the workers, whereas the reduced construction schedules will lead to reduced costs and usage of elevation equipment.
FRAMECAD encourage you to read the complete report here and learn more about how prefabricated Cold Formed Steel is the future of construction and how FRAMECAD is the way the world constructs.