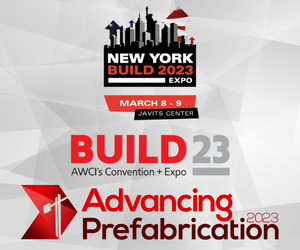 FRAMECAD will be exhibiting New York Build, BUILD23, and Advancing Prefabrication this March.
Visit us at one of these shows to discuss how the FRAMECAD system delivers advanced design-led methodology to increase your project productivity.
New York Build
Date: Wednesday 8 – Thursday 9 March, 2023
Location: Javits Center, New York City, NY
Booth #765
Attracting over 29,000 attendees, New York Build is New York and the Tri-state area's largest construction and design show. Meet and network with people from all sectors of the construction and design industry, from developers and architects to realtors, government agencies and much more. With 360+ high level speakers learn about the major construction opportunities in residential, commercial, and infrastructure projects across New York and the Tri-state region.
Sign up now to receive a FREE pass
BUILD23
Date: Wednesday 15 – Thursday 16, March 2023
Location: Paris Las Vegas, Las Vegas, NV
Booth #907
AWCI's Convention + Expo brings people together from across the industry for a variety of in-depth education sessions and stellar networking receptions. Build23 is the largest trade show specifically catering to the wall and ceiling industry showcasing the latest and greatest products, services and solutions to help your company thrive.
Use code: VIP23 and select FRAMECAD as Sponsoring Exhibitor to receive FREE VIP pass *code expires 8th March 2023
Advancing Prefabrication
Date: Tuesday 14 – Friday 17, March 2023
Location: Sheraton Phoenix Downtown, Phoenix, AZ
Booth #132
Advancing Prefabrication is North America's premier networking and thought leadership conference dedicated to revolutionizing prefabrication, modular and industrialized manufacturing approaches across the AEC supply chain. Join us in 2023 to give every member of your team the insights they need to optimize each facet of your prefab operations, while building a more robust strategy for industrialization to set yourselves apart from the competition.
Use code: FRAMECAD20 for 20% off your registration
Here's what you can learn at the FRAMECAD booth:
The easiest way to engage cold formed steel in construction
How to reduce engineering costs, whilst adding value into your structural designs
How to avoid expensive labor costs and rapidly accelerate the construction process
Construct highly accurate buildings with the FRAMECAD end-to-end system for cold formed steel
Want to book a personal meeting with a FRAMECAD expert at one of the shows?
Click below to let us know what time is good for you.
To learn more about the benefits of CFS construction, download our eBook, 'The Future of Construction' below.