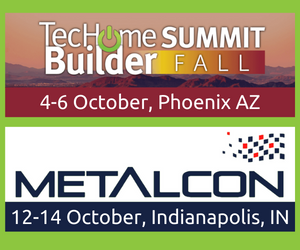 Join FRAMECAD® in-person at the TecHome Builder Summit and METALCON
We will be at these shows to discuss how the FRAMECAD® system delivers advanced design-led methodology to increase your project productivity.

TecHome Builder Summit Fall
When: Tuesday 4 - Thursday 6 October
Where: Phoenix Convention Center, Phoenix, AZ
Booth: #506

TecHome Builder Summit drives extraordinary progress on technology for the nation's biggest and most progressive single-family homebuilders and multifamily companies.

Guests attend the event to:

•

Engage substantively with innovative vendors in an intimate setting


•

Get immersed in a broad cross-section of innovative products


•

Increase their awareness of how to sell and market to key homebuyer demographics


•

Explore opportunities, challenges, and requirements for home technology to make tech a strategic asset for their company


If you'd like to join us at TecHome Builder Summit this fall, submit an application to see if you qualify for a complimentary seat.
METALCON 2022
When: Wednesday 12 - Friday 14 October
Where: Indiana Convention Center, Indianapolis, IN
Booth: #701
Experience the most innovative metal construction products and solutions and connect with the most respected metal construction industry vendors and thought leaders. Learn from the top technical whizzes, business experts, design professionals, and industry insiders in metal construction today.
This year METALCON will be offering 40 FREE educational sessions, daily peer networking events, keynote speakers, product demonstrations and more. Get the practical, solutions-oriented education on the key trends impacting the metal construction industry you can't get anywhere else.
Use code FRA2022 to get $30 off when registering
Our cold formed steel experts will be on-site to answer all your questions.
Here's what you can learn at the FRAMECAD® booth:
The easiest way to engage cold formed steel in construction
How to reduce engineering costs, whilst adding value into your structural designs
How to avoid expensive labor costs and rapidly accelerate the construction process
Construct highly accurate buildings with the FRAMECAD end-to-end system for cold formed steel
Want to book a personal meeting with a FRAMECAD expert?
Click below to let us know what time is good for you.
To learn more about the benefits of CFS construction, download our eBook, 'The Future of Construction' below.