Tiny Homes from One Life, Adana, Turkey, Affordable Luxury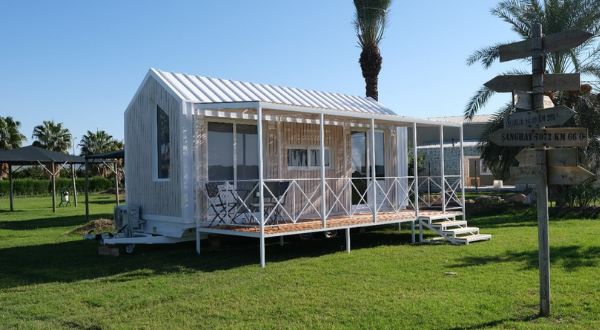 Background

In the world of home design, a transformation is taking place, and its future is tiny modular homes. News around the tiny houses trend is on the rise, with nearly 2.5m Instagram hashtags containing #tinyhouse; as well as a growing number of TV series, including the "Tiny House Nation" on Netflix, "George Clarke's Amazing Spaces" on Channel 4 UK, and "Tiny House Hunting" on YouTube.

What is a tiny home? A typical tiny home is a small home with square footage between 100 and 400 square feet, it can be attached on wheels, or it might be set on foundations. Most tiny homes are independent structures that are built as a finished product in the factory. Tiny homes come in all shapes, sizes, and finishes, but they all facilitate simpler living in a smaller, more efficient space. The tiny home lifestyle provides big financial advantages and the ability to live a lifestyle filled with adventure and flexibility.

The tiny homes movement, COVID-19 pandemic, and increasing land prices have led to the huge demand for tiny homes in Turkey. According to official data released by the Turkish Statistical Institute, around 1.5m tiny houses were sold in 2021, a year-on-year increase of 30%.

Con-imex (based in Adana, Turkey), a customer of FRAMECAD since 2011, have looked no further than FRAMECAD's cold formed steel technology to fabricate their tiny homes. They recently opened a new branch, One Life Pods, specifically targeting this line of products. Their FRAMECAD's F325iT system has been a key factor in their success across many residential projects, as well as vertical extensions, holiday batches, and now shifting their production capacity primarily to tiny homes to supply the increased demand for tiny living.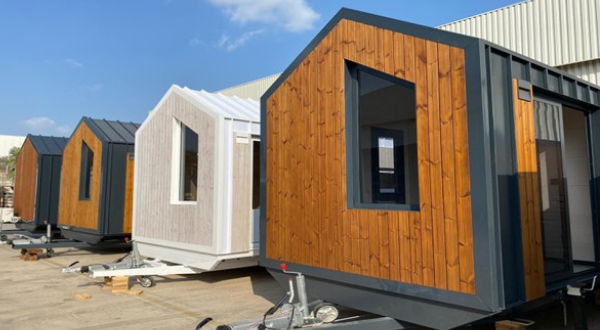 Design and Fabrication

With FRAMECAD's Revlink integration process, the Revit files of the tiny homes are exported to FRAMECAD Detailer, and then exported to the F325iT system for full fabrication of the steel frames. Mr Abdullah Ongen, Managing Partner at Con-imex, notes: "Customers have the option to choose from predesigned units or the flexibility to change the unit size, facade, roof slope and interior walls, all of which are accommodated in the Revit model. We want to engage with our customers to offer them the unit that they desire or to choose from the existing range. FRAMECAD Revlink integration makes this process a lot faster and easier. We are able to design the units according to the customer's needs and once this process is complete, we export the frames to FRAMECAD Detailer for the fabrication of the frames, a process that takes 30 minutes just to make sure the frames have the right stud spaces, configuration and punches."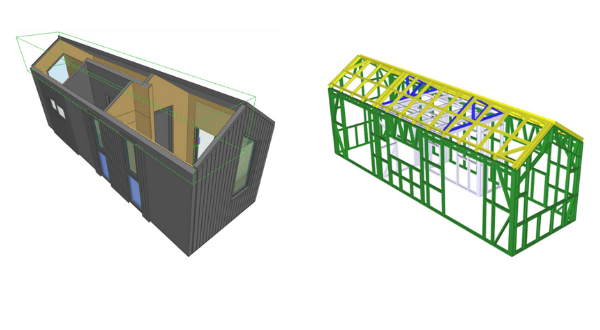 "The F325iT is fast and efficient, a typical small unit weighs around 400kgs, and the time it takes to produce one of these units is less than one hour. To be conservative and to allow for any downtime, we set aside approximately 7-8 hours of work for any design changes, design export, fabrication, assembly, and the erection of the steel frames. The full unit, including the interior, façade and MEP work takes less than 2 weeks to complete but we normally propose 6-weeks as a lead time for our clients as we generally have a series of backlog orders".

The Final Product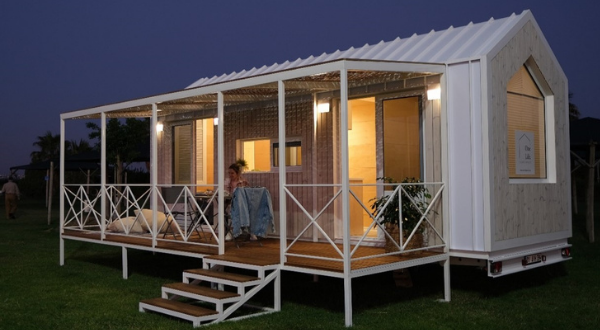 The tiny homes at One Life Pods range in size, from small-sized units of 12m2 to X large units of 21m2. The products are divided into two categories, the "on the go" which are units on wheels, and "pods" which are units without wheels. The building specifications of the units are carefully selected to provide the most optimum luxury and comfort for the customer. This includes a trailer with registration documents, O2 certification, electrostatic powder-coated aluminum joinery profiles, 0.7mm thick coat aluminum external cladding, mineral wool for insulation, range of plywood for interior cladding, AC unit and all MEP work. All of the unit's cladding materials complement FRAMECAD's high-strength cold formed steel sections by providing well-insulated, fire-rated, and sound-insulated assemblies. Full specifications at One Life Pods.

Commitment to FRAMECAD's Technology

With a happy client and a rapid tiny homes movement in Turkey, Con-imex are looking into expanding their production facility with another FRAMECAD F325iT system targeting pod construction using 63mm C profile. "FRAMECAD's cold formed steel technology is the most reliable method of construction for tiny homes due to its flexibility, precision, speed, and low number of man hours. Our business has initially started doing vertical extensions, residential units, containers, etc. But with the increase in demand for tiny homes, we thought no further than FRAMECAD to fabricate our units. The FRAMECAD team has been extremely supportive in solving any issues related to the software, design, integration, and spare parts. Con-imex is similar to FRAMECAD, we love product innovation! As we are limited to offer max. 4m high products on wheels with the O2 certificate, we created "On the go - Pop-up" units with an application of precise electrical activators, where users have the ability to expand the roof for another 80cm to create more space for the loft with a single switch. Customers love this feature" explains Mr Abdullah.
On the go (medium) unit in numbers:
Size: 14.5 m2

Technology: FRAMECAD's F325iT system

Profile: 89S41 G350

Thickness: 0.75mm

Weight: 450kgs. Less than one hour to fabricate all sections

Workforce: 3 workers at the most, any time during the project

Duration: 8-10 days (turnkey solution)

Fabrication materials supply: FRAMECAD (steel, screws, and connectors)

Cladding: Various materials. Refer to Medium – One Life Pods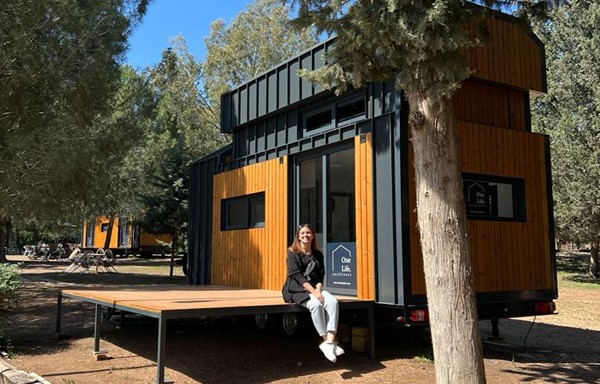 Summary

With the uncertainty of the global economy, housing affordability, and the movement to sustainable living, it is evident that homeowners are getting more innovative to afford their residential spaces. The tiny homes movement has gained a foothold globally, encouraging the construction of tiny homes on a daily basis. In the US, it is estimated that 63% of millennials would consider buying a tiny home and 55% of tiny homeowners have more savings than the average American, according to the tiny house statistics by iProperty Management. Tiny homes have evolved far beyond anticipated, and though they were once considered architecturally unappealing, they are becoming increasingly relevant to the field of architectural design and luxury living.

"The future of tiny homes is evident in Turkey, we do see a spike of residential home prices, inflation, and other global economic factors which will keep driving the tiny homes movement. We also need a solution to poor housing standards and a way to build houses quicker, more efficiently and more affordably. That is why FRAMECAD's cold formed steel technology is the perfect solution to accommodate the need for a better, faster, smaller, and more affordable way of living." Added Mr Abdullah.