FRAMEGO 101 CORPORATION (FRAMEGO), Philippines
Securing the healthcare front-line
During the global coronavirus pandemic, we are heartened by the good news stories coming out of the FRAMECAD network – as our customers use their expertise and ingenuity to assist in their local communities and beyond.
Filipino building company FrameGo, used their cold-formed steel know-how and FRAMECAD technology, to create several state-of-the-art solutions, aimed at protecting the Philippine front-line healthcare workers.
The team at FrameGo identified the challenges with personal protective equipment (PPE) conservation efforts, and in addition, wanted to help increase the number of patients tested for coronavirus.
Working within the constraints of community quarantine, the lean team designed and built protective prototypes made of cold-formed steel to reduce the risk of COVID-19 exposure for both patients and healthcare personnel.
Split-type testing booth (L) & testing booth (R)

"The protection of our frontline health workers is paramount and protective measures must be prioritized for health care workers and others caring for COVID-19 patients. Our FrameGo protective structures are built to protect them, patients, and others when providing care. These are contact-free physical barriers to reduce exposure to the COVID-19 virus."

Ramon L. Peralejo, Chairman, FrameGo 101 Corporation & Inno Realty Corporation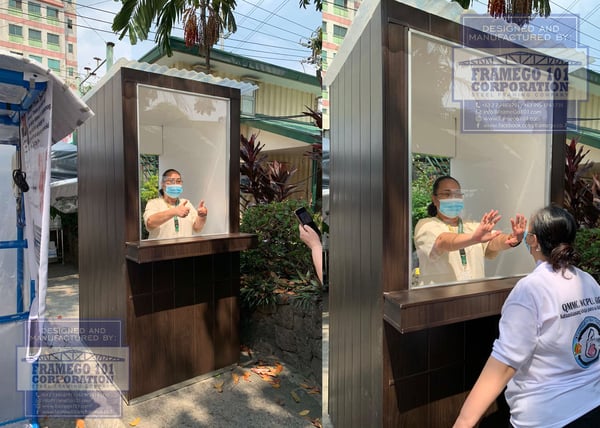 The testing booth at Quirino Memorial Medical Center (QMMC) in Quezon City
A benefit of utilizing a cold-formed steel end-to-end solution was the fast turnaround of booths. With just over two weeks from prototype to delivery, FrameGo was able to quickly donate testing booths to Quirino Memorial Medical Center (QMMC) in Quezon City, andGat Andres Bonifacio Memorial Medical Center in Delpan, Tondo, giving these hospitals a much needed tool in the fight against COVID-19.
FrameGo's Protective Testing Booths (PTBs) are designed contact-free, mobile & permanent, and can be rapidly pre-fabricated or built on-site in a few days. Uniquely these are durable, fire-resistant and can be reused post-pandemic.
Not satisfied with one solution, FrameGo's design team also developed other prototypes, such disinfection chambers, temporary emergency shelters (6-unit, 3-unit and single unit), stand-alone and split medical testing booths, mobile clinics, and more.
---
FrameGo is a 100% Filipino building company that aims to provide an efficient and cost-effective end-to-end solution to construction by utilizing the advantages of cold-formed steel framing technology. From design to manufacturing, and finally, to construction, FRAMEGO 101 CORP is driven to provide a quality service experience for all our customers. Our company will in the near future lead the way to help ease the Philippines' housing backlog amounting to an estimated 6.7 million housing units.
To contact FRAMEGO, visit their FRAMECAD Connect page here.