Innovation has always been a key component of FRAMECAD as a business. Never ones to rest on our laurels, we provide innovative solutions to our customers to ensure that we continue to be leaders in the light gauge steel (LGS) industry. A big part of that ongoing journey is MyFRAMECAD – our unique customer portal.
We tossed around the idea of an integrated online platform for many years – and finally, after a lot of R&D, came up with the concept of MyFRAMECAD. Almost three years ago, we launched its first iteration – and since then have added some pretty fantastic features.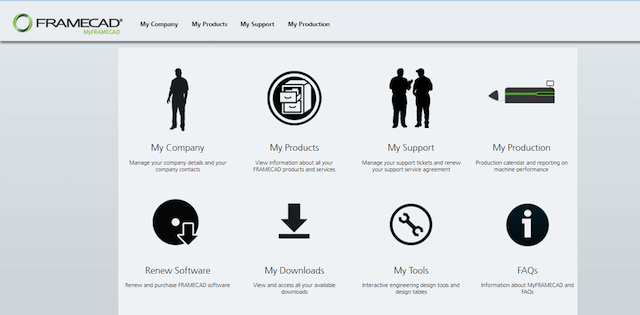 MyFRAMECAD is free for all FRAMECAD customers, giving them the ability to truly keep their fingers on the pulse, in a way that nobody else in the industry is currently offering. The building industry has been trying to catch up to modern technology and on the most part, hasn't succeeded – by focusing on R&D and innovation, FRAMECAD is able to stay ahead of the curve and really make the most of technology to optimise the customer experience.
We even have a dedicated MyFRAMECAD development team working on it every day in order to keep offering new features – allowing us to better answer customers' everyday needs.
So what makes MyFRAMECAD so unique?
Integration
While FRAMECAD produces some fantastic equipment, we believe that equipment can really only be used at its best when integrated with the best software and backed up by customer support. MyFRAMECAD is fully integrated with every aspect of FRAMECAD's products and services. From our services to the building of products, you can access everything pertinent to your company's account online and ensure everything works together perfectly.
Production
MyFRAMECAD doesn't do anything by halves. Since we understand that no two companies are the same, the My Production segment of the system is flexible and provides a variety of ways to track production and reporting, from calendar overview to events and reminders to graphics and tables. This enables our customers to run their businesses efficiently and optimise their production.
Support
My Support within MyFRAMECAD makes customer support and service incredibly easy. Quote requests can be quickly filled in, and support packages can be purchased or renewed.
The FRAMECAD Care system is the best way to expedite the customer service process – one simple form and you'll be safe in the knowledge that your query is being reviewed by a dedicated FRAMECAD team member and will be responded to as soon as possible.
Products
Keeping track of precisely what products and services you have on hand can be difficult. Utilising MyFRAMECAD is an easy solution to this issue – with a detailed catalogue of everything from equipment to software to service contracts kept in one place. Updating software and staying on top of renewal dates is significantly easier when links are embedded into the catalogue – and with extensive software information and updates all in one place, you know you're always working with the latest version.
Tools
It is one thing to provide services and products – but at FRAMECAD, we want to ensure that you do extraordinary things with our extraordinary products. As such, we provide an ever-growing suite of engineering tools and specialised calculators – meaning that the design and build process can be more efficient than ever before. With both metric and imperial systems fully supported by all FRAMECAD tools, you are equipped regardless of your measurement system.
The bottom line
Striving for innovation is an integral part of FRAMECAD – and MyFRAMECAD is just one step on that journey. Many of our customers are already using it every day, describing it as their "go-to" and our best kept secret.
This integral part of our FRAMECAD offering equips you with all of the tools you need to keep up to date with all elements of your FRAMECAD system. MyFRAMECAD is the simple solution to making the management and production of your projects even more streamlined and effective.
If you would like more information about MyFRAMECAD, discover MyFRAMECAD product section here