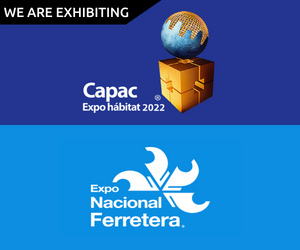 Join FRAMECAD® in-person in at CPAC Expo H

á

bitat & Expo Nacional Ferretera.
FRAMECAD will be exhibiting at tradeshows in Latin America to discuss how the FRAMECAD® system delivers advanced design-led methodology to increase your project productivity.
CAPAC Expo Hábitat
Where: Panama City, Panama
When: 1-4 September
Booth: 392
With more than 60 years of vocation to the industry CAPAC will be hosting their 35th CAPAC Expo Hábitat this year. It focuses on developing the construction industry and creating an environment where connections and buying can be made. This year they will have hundreds of exhibitors, bringing together construction, technology, and decorating companies. As well as real estate developers and financial entities, having everyone you need in place, you sure do not want to miss it. CAPAC Expo Hábitat is expecting a few thousand attendees to join the event and participate in activities such as Do-It-Yourself Workshops and Technical Talks.
Expo Nacional Ferretera
Where: Guadalajara, Mexico
When: 8-10 September
Booth: 3711

Expo Nacional Ferretera has been decisive for the growth and consolidation of the hardware, construction, electrical and industrial safety sectors in Mexico, Central and South America. Since its first event in 1989, Expo Nacional Ferretera has forged paths of success for both their exhibitors and attendees. It is a key place for manufacturers, distributors, and buyers to create business networks. With over 1,000 exhibitors, 80,000 expected visitors, and a 90% satisfaction rate among past visitors you do not want to miss this event.
Register for free here
Our cold formed steel experts will be on-site to answer all your questions.
Here's what you can learn at the FRAMECAD® booth:
The easiest way to engage cold formed steel in construction
How to reduce engineering costs, whilst adding value into your structural designs
How to avoid expensive labor costs and rapidly accelerate the construction process
Construct highly accurate buildings with the FRAMECAD end-to-end system for cold formed steel


Want to book a personal meeting at a show with a FRAMECAD expert?
Click below to let us know what time is good for you.
To learn more about the benefits of CFS construction, download our eBook, 'The Future of Construction' below.