FRAMECAD is proud to announce that our web joist Sub-Assemblies:
have been certified by Intertek, an independent US lab with a fire resistance rating of 65 minutes.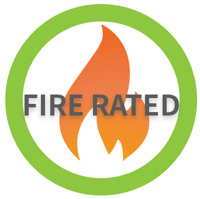 The FRAMECAD Sub-Assemblies are essential in the USA construction of mid rise, multi story buildings, ideal for Age-Care facility or Multifamily residential construction. Approved by the American building approval authority, these assemblies can be used in multiple forms of flooring substraits in mid rise applications.
US Building codes frequently require Cold Formed steel framed assemblies to have a fire-resistance rating that is based on fire tests conducted in accordance with a recognized standard test such as ASTM, the American Society for Testing and Materials as stated in the FRAMECAD fire rating conclusion report below.
The fire rating of an assembly is a measurement indicating how long the assembly will resist the spread of fire while maintaining structural integrity. Fire resistance ratings are expressed by the number of hours/minutes that a wall assembly can maintain its integrity while containing the fire, smoke, and temperature of a working fire.

With life safety, and specifically fire protection, a primary concern for US building codes, there are significant requirements regulating the use of fire rated assemblies through the installation of fire-stopping (or fire blocking), draft-stopping and fire suppression systems.
The FRAMECAD solutions FCF2 and FCF3 provide the necessary fire protection in floors such that the layers of fire-resistant building products contained in the sub assemblies will provide a 65minutes fire protection.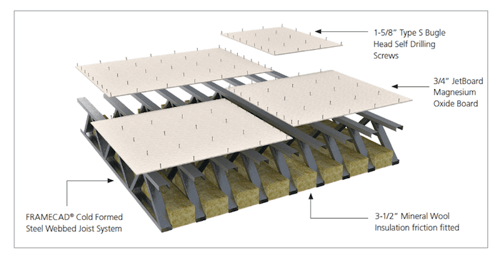 These FRAMECAD fire rated Sub-Assemblies use FRAMECAD Cold Formed Steel web joists manufactured with the F325iT or the F450iT in combination with a range of quality building materials.
The FRAMECAD Sub-Assemblies allow a rapid and durable flooring system, providing a real competitive advantage for project owners including:
Fire rating

Faster building authority approval in the US construction market

Increased manufacturing system versatility

Faster construction


Increased ROI
The Intertek official report delivered a 65 minutes fire resistance rating in February 2017, see conclusion below.
FRAMECAD Design and Build System encompasses a full range of FRAMECAD Sub-Assemblies that meet fire, thermal and acoustic values, or that are suitable for general lining and cladding.
Discover more information about FRAMECAD Sub- Assemblies on FRAMECAD.com or talk to a FRAMECAD expert today.