The FRAMECAD F325iT-L manufacturing system offers precision punching options for optimum productivity & industry-leading manufacturing versatility of trusses, walls, joists, mods & pods.
Driven by our commitment to continued innovation, and to help meet the growing needs of our customers and the requirements of the cold formed steel (CSF) construction market, our design engineers have reviewed and refined the F325iT-L, providing significantly increased design and manufacturing flexibility, unique to FRAMECAD.
Based on the industry-leading FRAMECAD F325iT, the F325iT-L includes 15 tooling options as standard, with the option to add another five. This increased functionality provides up to 20 advanced precision punching functions for the highest productivity and manufacturing versatility of roof trusses, walls, floor joists, mods and pods.
Watch the FRAMECAD F325iT-L product video:
The F325iT-L produces profiles from 2.5" - 6" (63mm - 150mm), in steel up to 24 - 18 gauge (0.55mm - 1.2mm) thickness, for unrivalled production speed and accuracy.
Ideal for the construction of walls, floors and roofs for 1-3 level residential, modular and transportable units, and light commercial construction, FRAMECAD's F325iT-L manufacturing system can be either factory-based or transportable in a mobile factory.


Additional product features:
High line speed up to 9,450ft./hr (2880m/hr) results in the industry's best framing and truss manufacturing output

An auto gauging system that automatically adjusts gauge range to increase overall productivity for steel thickness from 0.55 -1.2mm or 24 - 18 gauge steel

Includes hot climate hydraulic cooling system for high temperature operating environments

Smart internet connectivity provides cloud-based data reporting to enable real-time production management and technical diagnostics to improve efficiency.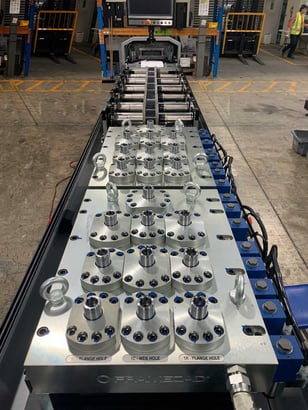 F325iT-L System specifications:
Description

FRAMECAD Frame & Truss plant

Design software options

FRAMECAD Structure & FRAMECAD Detailer

Machine control software

FRAMECAD Factory 2

Number of Profiles

1xC & 1xU

Profile Width (Web)

Range 2.5" - 6" or 63mm - 150mm

Profile Height (Flange)

Range 34 - 50mm or 1⅟₃ - 2" (Boxable s

ection recommended)

Material Thickness

0.55 - 1.2mm (24-18 gauge)

Roll Forming Stations

13 Auto Gauging stations & 3 further forming stations

Punching Stations

15 Frame and Truss Punching Stations (with the option of 5 more punching stations)

Standard Punch Tooling*

Service hole, web bolt hole, dimple, web notch, chamfer, lip cut, flange holes (left & right), swage, shear. (Options to add flange cut left and right, plus additional web and flange punch tools)

Max Line Speed

9,450ft./hr (2,880m/hr)

Typical Production Speed (actual dependent on framing design)

Joists: 985ft./hr (300m/hr)
Walls: 2,300ft./hr (700m/hr)

Main Drive Power

10hp (7.5kW)

Hydraulic Power

7.4hp (5.5kW)

Hydraulic Reservoir

17 gal (80L)

Ambient temperature

32-104°F (0-40°C)

Length x Width x Height - to top of covers

13.12ft (4.0m) x 2.65ft (0.8m) x 3.95ft (1.2m)

Approx. Weight

4,343lb (1,970kg)

Mains power supply

400VAC, 25A

Printer

2 printer heads

Decoiler Capacity

6,600lb (3,000kg) powered decoiler

User Interface and Connectivity

21.5" Touch Screen enabled with Mobile, Wi-Fi & LAN internet connectivity.

*Subject to customer System specification. Due to FRAMECAD's ongoing innovation, system specification may change.
A full F325iT-L specification sheet can be downloaded here.
A continued focus on quality and innovation
All FRAMECAD equipment including the F325iT-L is designed, manufactured and quality assured in-house by our expert design and mechanical engineers. This ensures all FRAMECAD equipment meets our very high standards and tight tolerances and provides FRAMECAD customers the certainty that what is designed will be constructed.
For more information on the F325iT-L, details or a quote, talk to one of our experts today.
For more information about FRAMECAD check out our latest video.