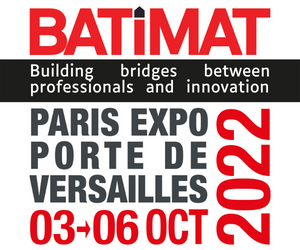 Join FRAMECAD® at

BATIMAT

, October 3 - 6, at Expo Porte de Versailles
We will be at stand 1S-130*, to discuss how the FRAMECAD system delivers advanced design-led methodology to increase your projectivity.
*Please note we are now on aisle S
For over 60 years BATIMAT has been connecting construction and architecture professionals with innovative products and solutions. There will be exhibitors from a wide range of sectors including novel indoor and outdoor fittings, construction technologies, worksite equipment, and design solutions.
This year's theme is "Megatrends" that impact the industry, featuring topics such as connectivity and digital technologies, renewable resources and limited waste solutions in buildings, low and zero-carbon footprint processes, and flexible housing.
The show will feature:
1,300 Exhibitors
700 Speakers
100 Demonstrations
170 Innovations
100+ Conference Sessions and Workshops
The Interclima and Idéobain shows will be on at the same time, creating for great business synergies between the construction, energy, and bathroom and interior design sectors.
Get FREE Tickets using code: BEX936847
Here's what you can learn at the FRAMECAD® booth:
The easiest way to engage cold formed steel in construction
How to reduce engineering costs, whilst adding value into your structural designs
How to avoid expensive labour costs and rapidly accelerate the construction process
Construct highly accurate buildings with the FRAMECAD end-to-end system for cold formed steel
Want to book a personal meeting with a FRAMECAD expert?
Click below to let us know what time is good for you.
To learn more about the benefits of CFS construction, download our eBook, 'The Future of Construction' below.