They say, the only thing that is consistent is change, and thanks to the basic rules of supply and demand the cost of materials and labour are continuously changing. When construction is booming labour and materials are on high demand and supply can often be low, resulting in an increased price for both quality labour and quality materials. The following blog discusses some current market conditions and how FRAMECAD can help you control the growing cost of labour and amount spent on building materials.
With inflation and interest rates low and the cost of capital remaining suppressed the United States economy is holding strong. ABC Chief economist Anirban Basu reports that companies, individuals and governments are spending more and contributing greatly to the country wide "growth mode".
So, it's no surprise that the Bureau of Labor Statistics has reported that the national unemployment rate for those working in the construction industry is at an all-time record low of 2.2%. This has been due to an unprecedented amount of new jobs added to the industry month after month. In April 2019 33,000 new jobs were added to the industry equating to an exceptional 256,000 more available jobs than March 2018.
This surplus of jobs in a booming industry has created a shortage of specialty contractors, which has resulted in companies increasing wages to retain quality staff. This has also meant that contracting companies have been submitting exceedingly higher value project estimates to cover staff costs. For example, the City of Maine has slashed 10's of millions of dollars' worth of projects from its 2019 infrastructure plan because contractors have been submitting bids much higher than budgeted for.
Cost and project management and advisory firm Rider Levett Bucknall has also identified an increase in the cost of building materials & operating overheads as contributing to towards the overall increase of 5.7% in cost of construction for 2018. With an additional 6% increase slated for 2019 organisations need to start looking at smarter ways to construct.
So how do Contractors and Construction Companies ensure they are winning tenders and most importantly delivering an acceptable return on investment? The simple answer is to reduce the cost of labour, overheads and materials used and wasted. But how can this be achieved when there is already a forecast of more substantial cost increases on the horizon?
FRAMECAD have 30 years' experience researching, developing and innovating systems that deliver more accurate, low cost, faster-to construct quality buildings. Utilizing the FRAMECAD Technology process presents the opportunity to create highly scalable construction businesses that generate far faster ROI than traditional methods.
In this Blog we will discuss specifically how the design-led methodology and how constructing with Cold Formed Steel (CFS) delivers exceptional savings on labour and materials
Download our complete eBook: Leading by Design to learn more about the complete range of time and cost saving benefits of the FRAMECAD system.
FRAMECAD have identified that with traditional construction methods, much of the decision making happens on site, relying on the skill of a highly specialized contractor on the job. Using a design-led construction process, the skill moves upstream; decision making responsibilities are transferred to the designers, and are no longer the domain of on-site labourers.
Local labour can be used without the need for extensive training. Since CFS is designed to be used in all kinds of locations across the world, this can provide incredible opportunities for developers and construction companies alike.

Additionally, the number of people required for a design-led CFS build is reduced from that of a traditional timber or block build. CFS is intrinsically light, without compromising on strength. A frame built from traditional materials may require multiple workers and lifting equipment to carry and erect. When crafted from CFS it can typically be handled by just one or two workers.
And, with the FRAMECAD manufacturing system, each component is uniquely labelled, meaning workers on-site can easily put together the frames at an unprecedented speed.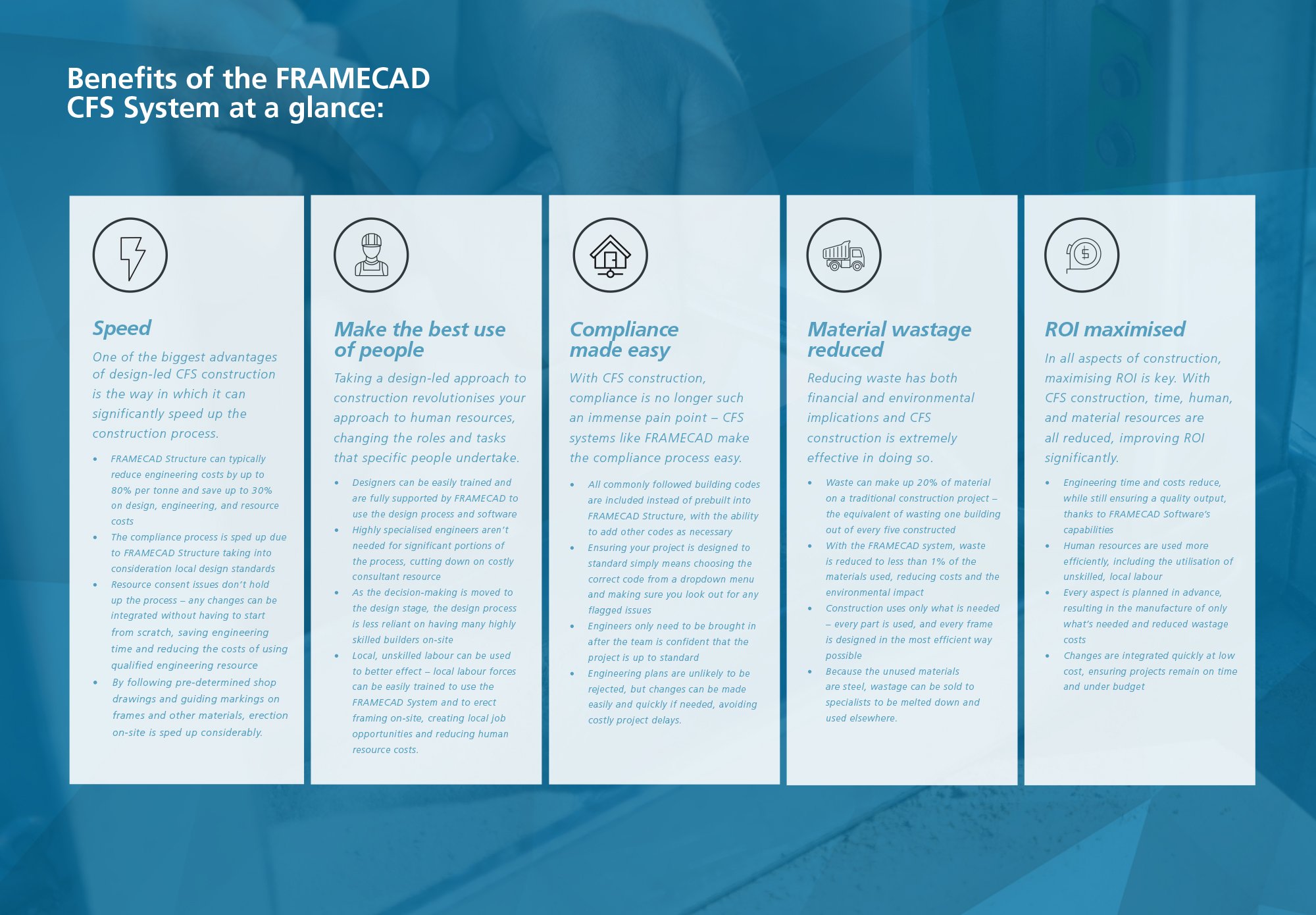 Click On the Image to enlarge in a new Window
With traditional building projects, wastage is considered to be a normal part of the process – with many project owners factoring in up to 20% of the cost of materials as wastage in project tenders. For every 5 buildings constructed that equates to 1 building wasted!
With design-led CFS construction, the Bill of Materials (BOM) and the amount of framing is created with a high degree of accuracy for the project. The integrated FRAMECAD System determines how to produce all the materials needed with the lowest possible amount of waste (often less than 1%).
The small amount of steel offcuts created in the manufacturing process are recyclable and in high demand. It is a far more environmentally friendly alternative to the site wastage created by traditional methods. Specialists will even pay to take steel away to recycle and reuse it for other purposes.
FRAMECAD's design-led CFS construction process is not just faster than traditional methods, it also offers a better ROI due to the efficient use of people and material resources through the innovative use of technology.
Our highly dedicated FRAMECAD experts are here to partner with your business and assist with integrating our revolutionary system into your organization. Book a consultation with a member of global team and start discovering The Way the World Constructs.