Background

The construction industry across Australia is currently experiencing a substantial transformation. Clients demand more reliable product supply with less labor costs, so the move from timber to steel framing is gaining momentum. This change gave the opportunity of further expansion for well-established Melbourne based Dynamic Steel Frame, who have been manufacturing light gauge steel (LGS) frames for the commercial and domestic industry since 2012.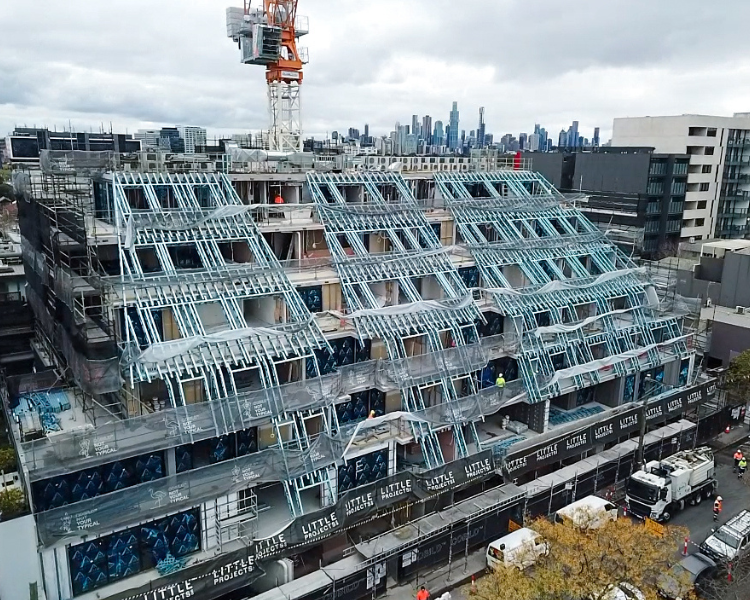 Key components are produced quickly and accurately with design and engineering software using their FRAMECAD systems. These include wall frames, roof trusses, floor joists, panels, and innovative prefabricated façades. The team work across an array of sectors from modular, light industrial, investment housing, high-end bespoke homes, multi-residential, transportable buildings, factories and townhouse developments.
"If you can imagine it, we can build it!"
Over the years the company has built up a loyal repeat customer base. This is due to their extensive experience, unmatched knowledge base and reputation for delivering innovative & cost-effective solutions to overcome tough construction challenges.
Award Winning Grattan Street Project
Dynamic Steel Frame recently won a National Steel Excellence Award for the Innovative Cold Form Steel Buildings category. This was for the Grattan Street Façade project. For this activity, they worked alongside building partner Cobild.

In total, the project used approximately 11,000 lineal meters of TrueCore steel and over 800 structural brackets.

FRAMECAD structure and detailer software were used by the in-house team for the design stage. This was a very important step for the project, as it ensured precision and accuracy would run throughout the whole project.

Peter Blythe, Managing Director said, "The FRAMECAD suite of design engineering software and its precise integration with the FRAMECAD manufacturing process allowed us to faithfully reproduce this design with absolute accuracy and manufacture with precision and repeatability."

"This award was a great accomplishment of the hard work and dedication that went into the design and manufacturing of this project. We have seen an increase in sales and tractions from our social media and website, which is a great testament."
Project Challenges
As these façade walls are also acting as a roof structure, they follow the level of the concrete floor system. Often concrete floors of this size will have a certain amount of deflection or movement under load. These small movements in the position of the floor needed to be accommodated for in the design of the façade using a light steel to slab connection system that allows for deflection without compromising the frame.
Brandan Verzantvoort, General Manager commented

"Projects of this nature are very exciting for a detailer, knowing there will be many challenges along the way, it's up to the detailer and the team around them to provide solutions. When hours of hard work have been applied and solutions have been executed as intended, the results are very rewarding for us and our customers."
"The biggest challenge was structurally connecting frames to the 7 slabs that were different in depth, geometry, deflection and post tensioning voids, while keeping the architectural envelope. This was overcome by construction knowledge, collaborating closely with all project teams, and the ability of FRAMECAD to integrate with other software creating a millimetre-perfect BIM environment."
The Future

The industry is ever-growing, and the team has seen a massive increase in the demand for (CFS) cold formed steel frames. Dynamic Steel Frame expects the growth to continue and expand further.

Peter commented "The future is moving towards a higher dependency on offsite work and modern methods of construction to ensure the success of any project. Light gauge steel, being first 3D modeled and then manufactured from the highly accurate FRAMECAD manufacturing process is the perfect solution for this."

"The extreme accuracy and absolute repeatability make for hassle-free installation and a faster build."



---