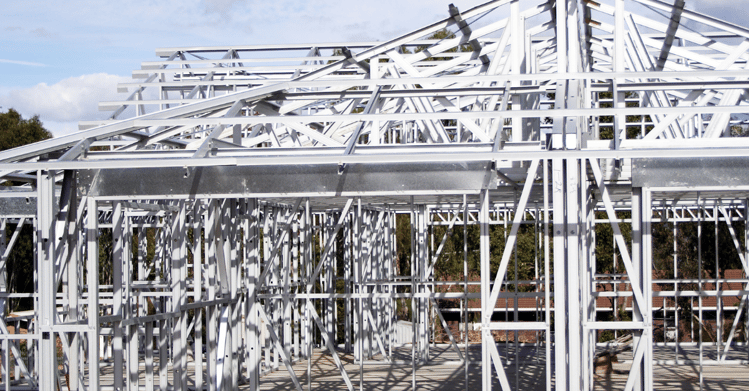 Initially, the appearance, of a new home built using steel or timber will look the same. So why choose steel framing over wood?

Over time a steel structure will maintain its original aesthetic design. However, changes will happen to a timber structure and deterioration will occur.  We can see the same principle if we look at a steel vs a timber over the same time period. The timber will eventually twist and shrink, cracks will appear and the joints will fail. A structure is only as reliable as its weakest member and timber has unreliable consistency when compared with steel.

Most homeowners overlook the importance of the structural frame supporting their choice of claddings, facades, or interior linings. The structural frame is unseen and not really the exciting part of building or choosing a new home. The quality and performance of the structure has a critical effect on the performance of all the products that are attached to it. 

For centuries timber was the only option to build the frames, trusses and joists required in a new home or building with the key benefit being availability. In more recent year's technology has enabled the use of a stronger, more accurate and stable product – steel frames.  Modern steel is manufactured with consistency and has high tensile strength and reliable, durable coating technology. 

When using timber frames in a humid environment, wall panels and trusses can cause movement and cracks in the cladding and interior finishes. These cracks may allow moisture in and often this movement causes obvious distortions in the overall finish of the home. In high humidity, timber soaks up moisture which causes mold making an unhealthy home.  This isn't an issue when using steel framing.

In dry heat conditions mold isn't an issue, it's insects and termites.  In this scenario, timber needs to be pre-treated with toxic chemicals that are harmful to us and the environment. Typical chemicals used in timber treatment are Copper Chromium Arsenic (CCA) and Tributyltin Oxide (LOSP). The chemicals are toxic and ultimately end up polluting landfills after spending many decades inside the walls of a timber frame home.

Cold formed steel framing also performs much better than wood in extreme weather conditions such as high winds, cyclones and earthquake zones. This is because steel has the ability to absorb energy without compromising the structural integrity of the building.  

In addition, steel framing makes a great option for the builder. The speed of construction makes it more cost-effective for them and there is far less corrective rework for them after the building is complete, along with many other benefits.

So, there we have the benefits of selecting steel framing as the structural material when building or choosing your new home.