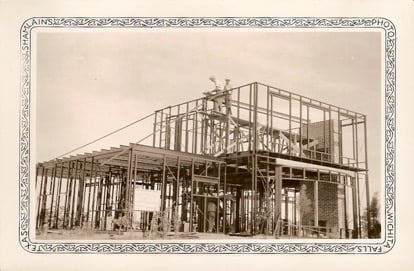 Cold formed steel construction is often described as a "new" method of construction, and although the benefits of CFS construction have recently become more widely recognized, it's valuable for construction firms to know that the method itself has much older origins than most people are aware of.
In fact, the set of practices that make up CFS construction have been in a global process of development and evolution for well over 150 years.
In this blog, we talk about the long-established roots of CFS construction methods, and its progression into the methods that have proven themselves to be globally trusted and relied upon.

It all began in a 'rush'

CFS construction can be traced all the way back to the 1849 California Gold Rush, when Peter Naylor, a roofer from New York, advertised "portable iron houses for California." The ad described how the iron was grooved, so all components of the house could slide together easily.
Naylor advertised that "20- x 15- (foot) homes could be built in less than a day, were cheaper than wood, fireproof, and more comfortable than a tent." A pretty attractive proposition during an 1840s gold rush, we're sure!
Jump forward to the 1933 Chicago Century of Progress Exposition (World's Fair) where a "home of the future" was featured. The home was completely framed with steel, developed by architect Howard T. Fisher, and based upon research into steel railroad cars and other manufacturing industries. It's apparent that even then, CFS was beginning to stand out as the construction method of the future.
The 1950s saw a remarkable turning point for CFS construction with the development of the self-drilling screw. Self-drilling screws, and the associated tools, presented a huge opportunity for CFS construction in the commercial market, and subsequently, CFS companies started popping up all across the USA.
Knowing even this brief timeline of the development of CFS, it's clear to see that modern-day cold formed steel (light gauged steel, LGS) construction, is the result of years of global research, development, testing and success.

Peace of mind

When constructing with CFS in the modern age, you have peace of mind that you are working with the most advanced processes and materials in the construction industry, and are using a set of methods that has a tried and true foundation.
Grounded in over 150 years of history, you can trust CFS construction to deliver successful results, now, and well into the future.
As students of the history of CFS construction, FRAMECAD has leveraged the evolutionary developments, and invested heavily in R&D to offer what today is an intelligent and complete CFS design and build solution, delivering fast and safe construction of varied building projects across the world.
* More detail, and a full timeline on the origins and development of CFS construction can be found in Structure Magazine's article "History of Cold Formed Steel" by Don Allen, P.E.
** Image rights: designingtomorrow.wordpress.com
---
Editors note - this article was originally written and published on June 1, 2017