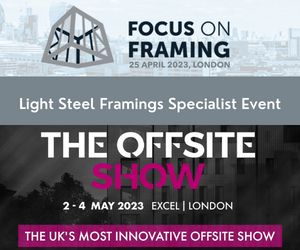 Join FRAMECAD in person at Focus on Framing and The Offsite Expo
Visit our stands to discuss how the FRAMECAD system delivers advanced design-led methodology to increase your project productivity.
Focus on Framing
When: April 25th
Where: The Building Centre London, London, UK

Bringing together light steel frame manufacturers and industry professionals, Focus on Framing is the only event of its kind for the light steel frame industry.
Efficiently engineered for safety and performance, the advantages of light steel framing systems LSFS) have long been recognised. The industry is more digitally savvy and advanced than other material sectors and so keeping up with the latest innovations can prove challenging.
The only specialist event of its kind, Focus on Framing, provides a solution for construction professionals looking to gain a greater understanding of the latest advances and best practise principles from sector experts. Through informative speakers and case study presentations, the seminar will focus on the fast-track non-combustible solutions that are having a significant impact in delivering outstanding buildings across all construction sectors, engineers, specifiers and developers are looking for ways to reduce environmental impact – as the most recycled material on the planet, this event will bring steel's sustainability credentials to the forefront of the industry.
Register to visit us at the show!
The Offsite Show
When: May 2 – 4
Where: The ExCeL, London, UK
Stand: OS09

In partnership with BuildOffsite, The Offsite Show will return on 2-4 May, uniting all suppliers and buyers in the built environment for offsite and pre-manufactured solutions.
The Offsite Show will be co-located with UK Construction Week, Multi-award winning, UK's largest built environment exhibition allowing you free access to nine other key sections including Concrete Expo, Build, Infrastructure, Offsite and Grand Designs Live.
If you want to see buyers from developers, major contractors, builders, consultants, architects, housing associations, local authorities, specifiers, infrastructure projects, civil and structural engineering firms and architectural firms, over and above those who you would normally expect to see at The Offsite Show, this is the event for you.
Register to visit us at the show!
Here's what you can learn at the FRAMECAD booth:
The easiest way to engage light gauged steel in construction
How to reduce engineering costs, whilst adding value into your structural designs
How to avoid expensive labour costs and rapidly accelerate the construction process
Construct highly accurate buildings with the FRAMECAD end-to-end system for light gauged steel
Want to book a personal meeting with a FRAMECAD expert at one of the shows?
Click below to let us know what time is good for you.
To learn more about the benefits of CFS construction, download our eBook, 'The Future of Construction' below.