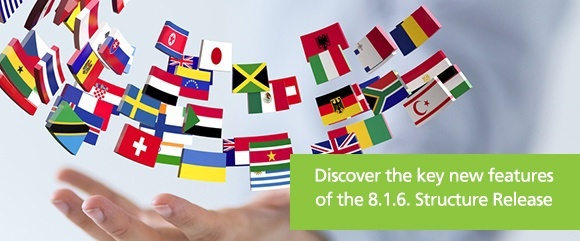 The new FRAMECAD® Structure 8.1.6 Release offers a multi-language user interface in English, Spanish, Chinese and French and many other new features.
Discover the key new features of the 8.1.6 Release that make FRAMECAD

®
Structure even better!
User interface internationalisation – Easy to use for non-English speakers
Structure now has the option to set the user interface language to Chinese, Spanish & French as well as English. This enables the users of Structure to operate the program in a language that is familiar to them.
More intuitive – Better commands access to improve designer efficiency
The ADD command now initiates the drawing border setup if borders are not found. This reduces the number of steps and helps to eliminate drawing issues.

More wall setting options have been added to the ADD command Wall input option. This allows users to quickly modify wall settings on a case by case basis as they generate Panels.

The 'Go to detailed beam' option has been added to the Floor Member Editor to assist Detailing and ensure consistency with the other member editor dialogues.
Smarter and more intelligent – Improved engineering results
New truss layout option added to use a Girder for the first truncated truss of a Hip roof. This is suitable for a wider range of loading scenarios and generally increases the pass rate for these trusses.
Enhanced market compliance – New wind loading checking function
Design of window head and sill members for face wind loading has been extended to include strength checks as well as deflection checks. The status and results of these design checks are now included in the Opening Report. This functionality may be required in many markets, especially the USA.
Saves you time – Now with a one click Material Summary Report
New Materials Summary Reports added to provide the user with the material information for the entire job using a single command.
Continuous improvement of the Software

General bug fixes to enable the program to run even more efficiently and seamlessly
More comprehensive placement, labelling functions and a new wall bracing report
A point ('P') placement option has been added to the Opening inputs; there is now the option to select the centre point location of the opening for input.

Added functionality to enable the opening label to be located either before or after the door size when using the Defined Door Input method. You can now also add or omit a space between the labels which enables the software to work in a more flexible manner in accordance with how the users wish to present their drawings.

New printable Wall Bracing report has been added to the software, this report includes strength summaries for each individual brace
Fore more information on the FRAMECAD Structure Software, click here.