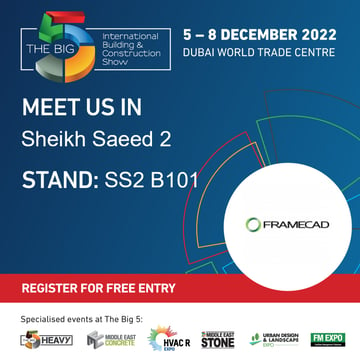 Join FRAMECAD® in person at The Big 5 Dubai at the World Trade Centre
Visit our stand to discuss how the FRAMECAD® system delivers advanced design-led methodology to increase your project productivity.
When: December Monday 5th - Thursday 8th, 2022
Where: Dubai World Trade Centre
Hall: Sheikh Saeed 2
Stand: B101
The Big 5 Dubai is the most influential construction event across the Middle East and Africa, it will be 4 days full of construction industry players connecting and growing to succeed. This is an event you will want to attend. With over 2,000 exhibitors and 55,000 expected attendees, there will be groundbreaking product launches, in-depth net-zero debates, and plenty of opportunities to build your network with key decision-makers.
This year it will again have six specialised events running across the four days catering to the entire construction life cycle: The Big 5 Heavy; Middle East Concrete; HVAC R Expo; Middle East Stone; Urban Design & Landscape Expo and FM Expo.
Register for FREE to visit us at the show
Here's what you can learn at the FRAMECAD® booth:
The easiest way to engage cold formed steel in construction
How to reduce engineering costs, whilst adding value into your structural designs
How to avoid expensive labour costs and rapidly accelerate the construction process
Construct highly accurate buildings with the FRAMECAD end-to-end system for cold formed steel
Want to book a personal meeting with a FRAMECAD expert?
Click below to let us know what time is good for you.
To learn more about the benefits of CFS construction, download our eBook, 'The Future of Construction' below.