Join FRAMECAD at SIBAT Expo from 20 to 22 of June, at Immeuble CAISTAB Abidjan.
The Construction Landscape of Ivory Coast
In 2018, the Ivoirian government is planning to build 100,000 low cost housing units by the end of year to address the need of 400,000 new homes (200,000 of which are needed in the economic capital of Abidjan). There are 71 construction sites in progress to address this need, but this will only cover a small portion of overall demand.
The growth of the construction landscape in Ivory Coast should be delivered using fast and modern methods such as a proven Cold Formed Steel solution which is available and used globally. Cold Formed Steel construction methods like the FRAMECAD System are best placed to meet the demands of the emerging construction.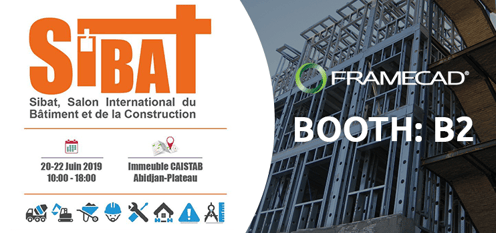 Learn More About FRAMECAD System
The FRAMECAD team will be at booth B2 to discuss how FRAMECAD System delivers advanced design led methodology to help your project. Book a personal meeting with FRAMECAD experts so you can:
Discover the

easiest way

to engage cold formed steel in construction
Learn how to

reduce engineering costs, whilst adding value into your structural designs
Learn how to

avoid expensive labor costs

and rapidly accelerate the construction process
Construct highly accurate buildings

with the world's only complete end-to-end system for cold formed steel