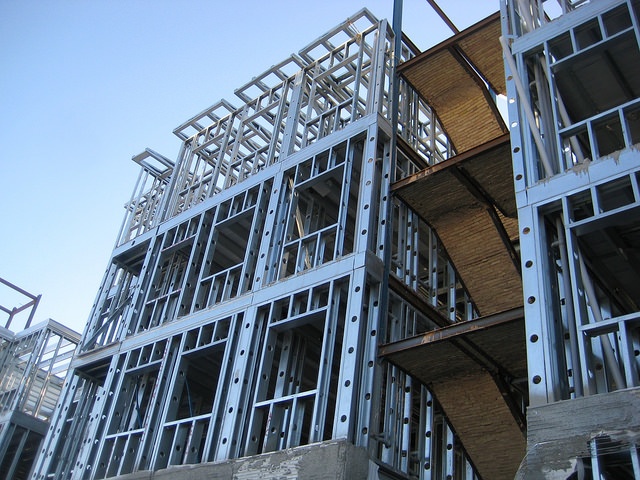 Cold formed steel construction and end-to-end systems like the FRAMECAD System are transforming the way that construction companies design, engineer, and build. So, who is helping drive that change – and how can you be prepared for the future of the construction industry?
Meet the team: Introducing Dan Spencer
Dan Spencer, our Business Development Manager, has spent his entire career in construction – from quantity surveying and estimating to sales and marketing of construction products. But after being with FRAMECAD for seven years, it's his passion for how cold formed steel (CFS) can be utilised in a huge variety of ways – both here and abroad – that keeps him excited.
With extensive experience in the market, Dan provides construction and manufacturing companies with practical advice on best practices and processes to ensure they are operating at the best of their potential.
Much of Dan's time is spent working with existing timber truss and pre-nail factories – teaching the benefits of CFS, helping integrate a CFS option to their existing factory or guiding them through a new CFS business setup. Once they're using the FRAMECAD System, it's all about making sure that customers have the most current software, techniques, and support. This includes liaising with engineers & software developers to optimise the client's system. Each factory is different, and we create solutions for the manufacturing process and help customers decide on the best design for a particular type of building. All stakeholders from the Designer and Manufacturing team through to the Carpenter onsite need to have visibility and input into the process.
"After the factory setup, I am focused on ensuring our customer becomes efficient and profitable in the fastest possible time. We support businesses through the highs and lows of the learning curve over the first few years. We really walk alongside the customer."
"The second big advantage we offer is that under the one roof in New Zealand we build everything required for our industry. From Engineering, Design Software, Frame Design including the mechanical equipment and factory control systems. If you have a problem, you only need to call one business. If you want to integrate or innovate, we are all on the same team and can move fast to help."
A lot of Dan's time is spent helping customers help each other – bringing people together so that if someone is doing something a better way it can be shared.
"CFS construction is by no means a mature industry, the market is racing along and new methods are spawning all the time. As better ways of building evolve, I try to bring everyone in so they can learn it fast and improve our products to keep up with the market."
How is the construction industry changing?
Although Dan is working with customers to help deliver solutions that work for them, he's also helping do more – by driving change within the construction industry.
After all, our industry has always been fairly traditional. While the world as a whole has been going digital, and social media has taken over virtually every business, most of the construction industry has stayed similar to the construction businesses of the past, with manual labour and traditional project management. From project planning done in silos and on paper. Construction businesses spend less than 1% of revenue on research and development, it's clear that many are still relying on old methods and aren't planning for the future.
However, with a lack of skilled labour on hand, and concerns about productivity always on the minds of project owners, now is the time to be part of the change, and take advantage of technology designed to streamline the construction process.
"The most amazing part of my job is being part of an industry that is changing the way construction is done around the world," shares Dan. "Every time you show someone how the technology works, they're always blown away by it."
Cold formed steel construction has multiple benefits:
it's faster, saving on time and costly resources;
it reduces waste, making it a more sustainable and cost-effective option;
it's accurate, with the ability to create an accurately engineered 3D model which can then be rolled through a machine to the same accuracy as the drawing;
it's lightweight and stable; it doesn't shrink, so the structural integrity remains intact even with time.
and it's easier too, onsite erectors can achieve a high-quality result, requiring less skilled labour.
We know that things are changing, and that cold formed steel is the way to go – but what will the construction industry look like in the future?
The future of construction
At FRAMECAD, we firmly believe in preparing the construction industry for the future – and we're proud to be pioneering methodologies and an end-to-end system that leads the way and will ensure our clients are not only prepared but also driving what's coming.
According to McKinsey, the construction industry will thrive by moving towards a manufacturing-like system of mass production. This will only be made possible through the adoption of end-to-end systems like FRAMECAD.
The future of construction will be a fully automated end-to-end design and build process that enables streamlined flow from design to construction, real-time visibility into the construction process, and data-driven construction project management.
Looking ahead, we're likely to see smart technologies like the Internet of Things, big data, and cloud computing become even more important as construction companies conduct end-to-end design and build automation. The use of these techniques could boost the sector's productivity by five to tenfold. And according to research from the Boston Consulting Group, full-scale digitisation may help the construction industry save between $1 trillion and $1.7 trillion annually worldwide.
Leveraging the next generation of smart technologies will keep organisations competitive in a dynamic and changing market. When you're looking for improved efficiency, quality, and a better bottom line, you can't simply keep doing what you've always done – you must look ahead. At FRAMECAD, we'll be proud to walk alongside you as you lead the construction industry into the future.