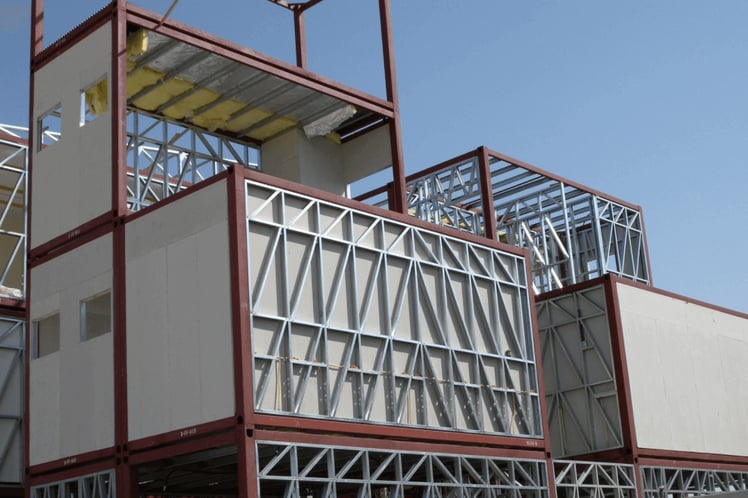 Modular construction is now a global-leading construction methodology, because of the cost-efficiency and reduced project schedules it offers to developers and general contractors.
Modular building can be split into two broad applications:
Permanent modular construction (PMC) refers to the erection of permanent buildings akin to traditional real estate in virtually every way, once finished. With PMC, modules are either retrofitted to existing buildings, or projects are designed around modular building technique as a turn-key solution from the start.


Non-permanent modular construction (NPMC), on the other hand, refers to the use of modular technique to create relocatable buildings and structures, such as mobile classrooms, showrooms, or temporary healthcare clinics. Like PMC projects, NPMC buildings are erected in accordance with local building codes and regulations , but can be relocated and repurposed as needed.


Both PMC and NPMC involve the prefabrication of functional building units in a climate-controlled setting. The individual 'modules' or 'pods' are then transported to site and lifted into place for fitting and finishing.
Whether used for permanent or relocatable structures, modular construction saves time, reduces waste, and creates efficiency for building projects spanning a multitude of markets.
Market segments for permanent and non-permanent modular construction
According to the Modular Building Institute (MBI), a wide array of markets are currently being served at increasing rates with modular construction. Modular solutions offer unique advantages in each use case.
Some of the most popular markets for permanent modular construction include:
Modular construction is well-suited to apartment buildings, condominiums, and other types of multi-family residential projects. Hotels and dormitories are also suited to PMC, where quality control over modules and identical specifications can be assured, and shorter timelines translate to faster occupancy and ROI.


Academic institutions. Whether simple classroom complexes or large campuses are planned, PMC can meet construction needs for schools and universities in as little as 90 days, allowing schools to quickly open doors and accommodate student bodies of any expected size.


Medical facilities of various sizes, including entire hospitals, outpatient clinics, dental clinics and surgical centres, are being built with PMC.


Administrative/sales. PMC can be used to construct office buildings and administrative spaces that range from facilities for small business to full-scale enterprise headquarters. PMC allows for custom modification of any interior space, be it a suite of offices, a kitchen, a meeting room, or an open space for partitions and cubicles.


Institutional projects. Churches, fire stations, police stations, schools, prisons and other types of non-profit or public works projects are well-served by PMC, as PMC construction complies with local codes, can achieve uniformity with existing architecture, and can often fit restricted budgets.


Retail businesses and commercial projects. Restaurants, grocery stores, and retail shops can be built quickly and efficiently with PMC, helping franchise owners and entrepreneurs open their doors much faster.
MBI also notes overlapping markets that are served by non-permanent modular construction solutions, with some unique use cases
Because fully-functional NPMC modules such as temporary classrooms and university campus additions can be deployed in as little as one day, schools can quickly seat fast-growing student populations.


Whether relocatable or temporary laboratories, hospital extensions, or specialist clinics are called for, NPMC can produce furnished facilities that are suitable for conducting medical procedures and housing equipment.


Retail and administrative/sales. NPMC concession stands and sales offices, can be finished within 24 hours. For corporate applications, NPMC can quickly deliver modules for relocatable office space of any configuration, including conference rooms and open space for partitions.


NPMC can deliver single- or multi-story guard offices, weigh stations, and toll booths, with features such as double-swing doors and heavy-duty walls, depending on planned security operations and needs.


Emergency and disaster relief. In the event of natural disasters, NPMC methods can quickly produce emergency medical clinics, equipment storage, and temporary housing for victims and relief workers.
Key indicators and statistics for PMC and NPMC
The widespread adoption of both PMC and NPMC makes a strong case for the reliability of modular building in preserving property values, and its viability as a cost-effective alternative to traditional construction for almost every sector.
PMC sustains healthy revenues for builders and yields products with competitive property values (where). According to research by Sage Policy Group, Inc. reported by the Modular Building Institute (MBI), average annual revenues range between US$8.9 million and US$24.4 million, with US$15.6 million as the average for MBI-affiliated firms. PMC firms globally were estimated to have earned total revenues of about US$3.3 billion in 2016, with total value for PMC projects for that year exceeding US$6 billion.
NPMC also enjoys healthy market dynamics, as seen in long-term ROI and high resale value often realised by lessees. As reported by MBI, NPMC fleet owners usually lease units for an average of 24-48 months. They often hold onto properties long enough to recover initial investments more than once, and then sell units after about 7-10 years at a high sales price-original cost ratio. For 2016, this ratio fell between 85% to 105%, indicating the enduring real value of NPMC projects.
Modular construction, whether in the form of PMC and NPMC, is an enduring and thriving trend. The property values of both permanent modular buildings and non-permanent, relocatable modular projects are competitive with site-built structures.
And, the modular construction industry is growing from a solid footing, with general contractors and ancillary firms realising high returns and stable demand across sectors and around the world.
For more explanation and detail regarding how FRAMECAD deploys offsite construction best-practice methodologies, you may be interesed in this page.