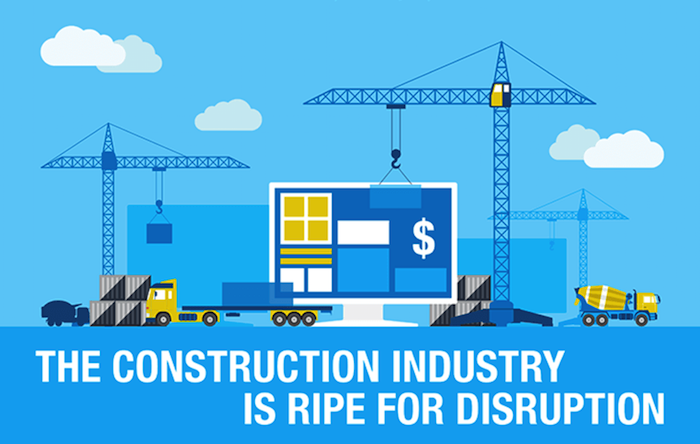 The global construction industry is ripe for disruption, according to the latest McKinsey & Company report "Imagining construction's digital future".
McKinsey & Company is a worldwide management consulting firm that conducts analysis to evaluate management decisions across the public and private sectors.
In 2011 McKinsey & Company was named as the most prestigious management consultancy in the world, which is why when they published a report on our industry, we took notice.Their report explains how globally, the construction sector hasn't kept pace with technological advancements in other sectors.
Symptoms of the global construction industry's slowness to adopt technology include the facts that around the world, large projects typically take 20 per cent longer to finish than forecasted, and are often up to 80 per cent over budget.
The report also includes an excellent infographic that identifies the innovations set to shape the future of the industry.
(Continues after infographic)




With the 21st century world so reliant on software it stands to reason that the construction industry should follow suit and invest in software to improve traditional construction industry processes. This will benefit the industry in a number of ways, the most significant advantages being:
A reduction of overall costs
An increase in labour productivity
The use of digital tools to improve collaboration and efficiency
Use innovative design and build approaches, such as off-site construction.
Why move with the times?
In this blog we consider how and why the building industry should adopt new methods of construction, particularly in order to solve the worldwide challenges of skilled labour and stagnating productivity.
With a growing demand for environmentally sensitive construction, along with a shortage of skilled labour, traditional building practices simply must change.
With the McKinsey report emphasizing these needs, we have highlighted some of the areas where we know FRAMECAD can offer specialist assistance in shaping the future of the global construction industry.
1. Next generation 5-D building information modelling
As explained in the McKinsey report:
"A 5-D BIM platform allows owners and contractors to identify, analyze, and record the impact of changes on project costs and scheduling. The visual and intuitive nature of 5-D BIM gives contractors a better chance to identify risks earlier and thus to make better decisions."
McKinsey is very clear on the importance of 5-D building information modelling for the future of the global construction industry:
"Combining 5-D BIM and augmented-reality devices will transform construction, maintenance, and operations. To get the full benefit of BIM technology, project owners and contractors need to incorporate its use right from the design stage, and all stakeholders need to adopt standardized design and data-reporting formats compatible with BIM. In addition, owners and contractors need to dedicate resources for BIM implementation and invest in capability building."
Construction companies that adopt 5-D BIM into their processes stand to gain improvements in efficiencies, as well as becoming more collaborative by nature.
2. Digital collaboration and mobility
This refers to a shift from paper toward online, real-time sharing of information to ensure:
Transparency and collaboration
Timely progress and risk assessment
Quality control
Better and more reliable outcomes



3. The Internet of Things and advanced analytics
Loosely speaking, the Internet of Things (IoT) refers to any object, appliance or machine that can communicate to the world wide web via sensors and an internet connection.
For the construction industry, the biggest advantages to be harnessed by the IoT relate to intelligent asset management and decision-making processes.
With project sites getting denser, the majority of data is not recorded, measured or processed. The Internet of Things enables construction machinery to "talk" to a data platform with critical information.
The major benefits for construction companies who incorporate machinery equipped to communicate via the Internet of Things are:
Equipment monitoring and repair. Advanced sensors can enable machinery to detect and communicate maintenance requirements, send automated alerts for preventive maintenance, and compile usage and maintenance data.
Inventory management and ordering. Connected systems can forecast and alert site managers when stocks are running short and when orders need to be made. NFC tagging and tracking of materials can also pinpoint their location and movement and help reconcile physical and electronic inventory.


4. Future-proof design and construction
By staying abreast of the latest technological developments within the construction industry, innovative companies can lower their costs and increase the pace of construction by using innovative methods such as pre-assembled modules, while at the same time raising their standards of quality and safety.
FRAMECAD is fully aware of the importance of the role prefabrication will play in the future of global construction, and one of the future-proofing solutions that we are particularly passionate about is the deployment of off-site construction approaches.
Although 80% of all construction work is still performed on-site, there is increasing recognition that this is no longer the most efficient construction approach.
McKinsey highlights this point, by recommending that:
"The industry needs to move beyond pre-casting and prefabricating structures to the next generation of techniques. Several techniques show potential (including) pre-assembly."
Summary
At FRAMECAD we pride ourselves on keeping our finger on the pulse of construction sector analysis and commentary, such as the McKinsey report "Imagining construction's digital future".
Clients of ours who take a similar level of pride in using the latest and most efficicent construction industry processes, find that by deploying our design-led process, using FRAMECAD intelligent software and by having our advanced manufacturing equipment, they can greatly improve their construction processes from start to finish, with systems that:
don't rely on skilled labour,
offer faster construction delivery with reduced overall costs
produce a better Return on Investment.
FRAMECAD is a part of the new generation of Design and Build solutions that work with the realities of adopting digitalized construction.
Given that we already incorporate BIM integration into our software , that we actively promote digital collaboration tools within our machinery, and that we are investors and believers in the Internet of Things, we welcome reports like the McKinsey report that suggest disruption to the traditional construction sector.


At FRAMECAD, we are moving towards the future, and our products and services reflect that. We embrace the technology profiled by the McKinsey report in this blog post, rather than shy away from it as so many traditional companies are.
This blog post is Part 1 of a two-part blog series. In the next blog we will discuss key recommendations from the McKinsey report, and will add our thoughts about how FRAMECAD can help the construction sector to adapt and thrive in a digital world.

(Header image rights: www.mckinsey.com)