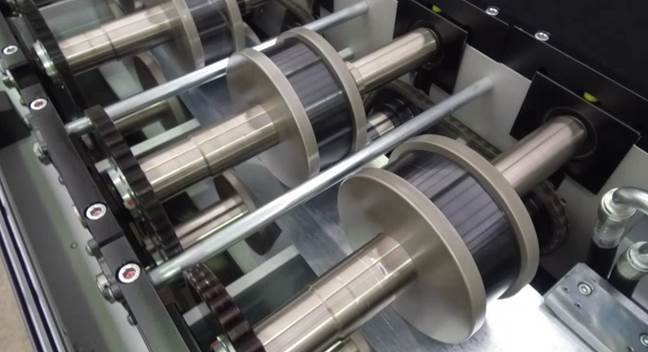 Creating steel profiles traditionally requires a lot of fine manual adjustments to roll forming machines. With the FRAMECAD machines, this is all but eliminated.
FRAMECAD auto-gauging machines, such as the F325iT & F450iT models primarily used for Residential, Commercial and Mid-rise applications, automatically adjust to specified thicknesses. The manufacturing equipment forms the CFS profiles without requiring each roll forming station to be adjusted manually.
As a result, skilled labour and downtime are spared, and projects run more efficiently from the start. Auto- gauging makes CFS framing efficient and straightforward, and will allow you to save valuable hours.
The utility of FRAMECAD auto-gauging technology: A look behind the scenes
Light Gauge Steel framing construction calls for a variety of gauges and tensile strengths, depending on engineering stipulations and the type of building needed. With conventional roll-forming machines, this demands a lot of manual adjustment, and often involves the highly-intensive usage of hand tools. The manual work can add hours or days to construction schedules.
The creation of CFS trusses, joists, and panels demand high accuracy. For CFS manufacturing equipment with no auto-gauging function, the process becomes both time intensive and error-prone due to the manual calibration of each roll former based on the gauge required for the design.
FRAMECAD's auto-gauging machines for CFS construction solve these issues. The operator simply feeds in the material, and the machine automatically detects the material thickness and appropriate gauge.
The auto-gauging FRAMECAD manufacturing system then adjusts the mechanical forming stations to the proper settings on its own, without further input. Integration with FRAMECAD software and sophisticated machine control system ensure pinpoint accuracy in the shape of each finished profile.
FRAMECAD solutions, on the whole, are engineered to minimise downtime, excel in accuracy and help developers and contractors execute projects with greater speed and productivity.
FRAMECAD systems equipped with the auto-gauging function offer a strong competitive advantage ensuring efficiency and versatility to successfully complete all your construction projects.
Two key benefits of the FRAMECAD profile forming machine
FRAMECAD equipment is perfectly suited for the multiple outputs required for CFS construction needs, quickly accommodating different strengths, profiles and steel gauges.
Load-bearing wall frames, non-load-bearing frames, joists and roof trusses all require different settings — a big time-sink with legacy machines, given the manual resetting and calibration.
FRAMECAD's auto-gauging process produces the desired profiles reliably and consistently. The two key benefits offered are:
Substantial time savings.

Manual resetting of each roll forming station can take up to an hour and rely on labour availability and skills. This can add up to an unnecessarily lengthened project timeline, leading to higher overall costs. Using the FRAMECAD unit makes it easier to complete construction within timelines and within budget.
A higher quality finish.

Auto-gauging technology yields high-quality, durable and precise components that exactly meet engineering requirements. This reduces human mistakes and rework resulting in faster delivery with reduced costs.
By reducing reliance on trained labour and increasing worker safety, it is also easier to do contingency planning. The sudden project delays that become more likely with more manual adjustments are sidestepped as well.
Maximising precision, staying within budget, and reducing error & budget contingencies is a key competitive advantage for residential, commercial and mid-rise projects.
The use of auto-gauging manufacturing equipment is an important step in that direction. Our roll forming systems are one essential part of FRAMECAD's end-to-end solution for CFS framing, providing greater accuracy with time and cost savings found nowhere else.