FRAMECAD is proud to announce the launch of a comprehensive series of 3-day courses to enhance your overall knowledge of Design, Detailing and Software Skills in Light Gauge Steel Framing. Each of these training courses will cover different topics including Advanced Design and Detailing, FRAMECAD Structure and FRAMECAD Detailer training.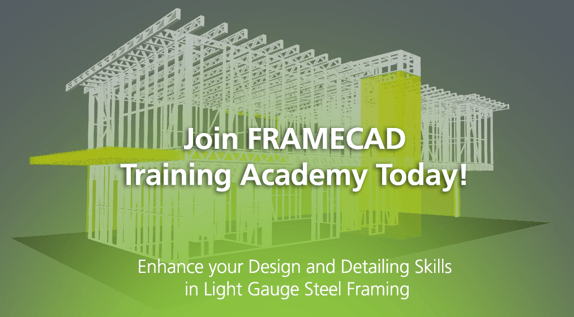 FRAMECAD Structure is a CAD-based software that allows for design and engineering capability for walls and trusses, and complies with numerous international building standards and steel codes, and enabling users to optimize designs for the best use of material and ensuring that it is structurally sound. FRAMECAD Structure is integrated with FRAMECAD Detailer to detail the plans ready for manufacture by the FRAMECAD manufacturing plant.
FRAMECAD Detailer is an advanced detailing software package that allows a steel frame manufacturing operation to be modeled from scratch ready for manufacture, walls, roof trusses or roof panels and webbed subfloors, or convert an architect's concept into detailed building plans ready for manufacture by FRAMECAD manufacturing plant.
Venue: FRAMECAD 5550 Triangle Parkway Suite 100, Norcross, GA 30092
Basic Training Dates: February 5 to 7, 2018
Click here for the Basic Training Agenda
Intermiediate Training Dates: February 26 to 28
Click here for the Intermediate Training Agenda
Seats are very limited and filling up fast. Do nto wait until the last minute to register.
For more information regarding the course agenda, please contact Alexander Beltran at AlexanderB@framecad.com or for any other questions, please contact Mariamar Masso at MariamarM@framecad.com