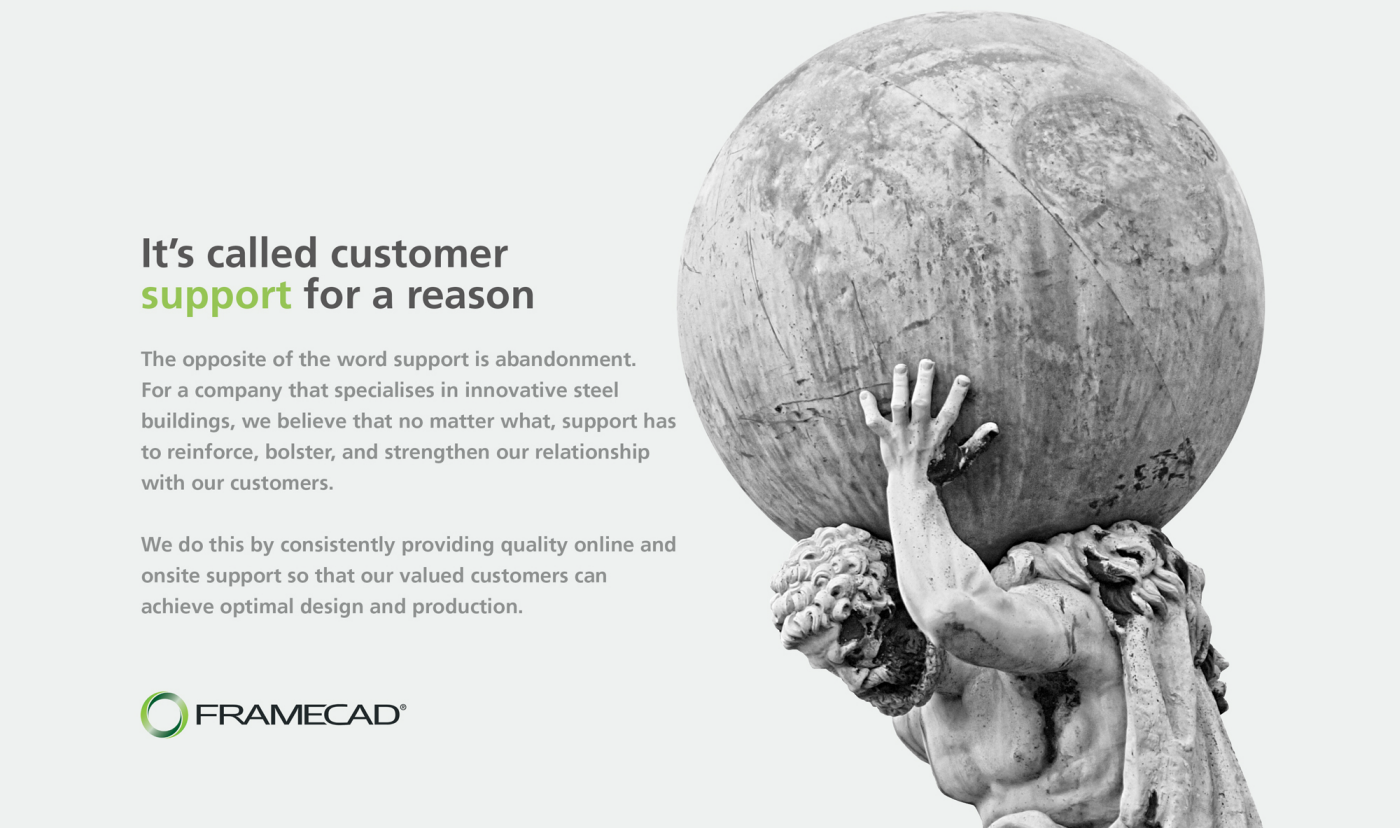 At FRAMECAD, we're passionate about our customers. When designing our software and equipment, we're consistently taking into account client feedback and needs, and creating products that suit our current and future clients. This dedication is also apparent in how we train and support our customers to make the most of their businesses through best practice cold formed steel construction.
So what can you expect from your customer care journey with FRAMECAD?
Stage one: Commissioning for best practice
Customer care starts as soon as you become part of the FRAMECAD community. With all our manufacturing equipment made to order, we'll inform you when your equipment's in production, when it's been finished and tested, and when you need to start preparing for its arrival. We'll allocate a technician to you and confirm when you're ready for commissioning.
Before we even arrive onsite, you'll receive your pre-commissioning manual – this covers your equipment, what everything should look like, how you get it into place and get power to it. We also give details on how to assess whether your space will work, and the things you'll need for commissioning, from oil to the right kind of steel.
Once we're on site, the commissioning can begin.
"If you're new to the FRAMECAD System, this will start with a software expert visiting to give you software training, ensure you know how to design, and confirm what equipment you're getting and how to configure your designs for your production," explains Steve Wilson, FRAMECAD's Aftersales Operations Manager.
"Commissioning is where you get an allocated technician who walks you from back to front of your equipment, shows you how to operate it, and helps you run steel through it all in a day. Then, they'll stick around for two more days to help you as you run a job through it, whether that's a little dog kennel or shed or a real, billable project." Ideally, you'll know the first job you need to get done – our technicians can show you how to run that job on your specific piece of FRAMECAD equipment."
The commissioning stage is vital for ensuring you get the most out of the FRAMECAD System and your cold formed steel construction business. "Things like just ensuring your steel is close to your equipment and stacked correctly makes a big difference when each coil weighs a literal ton. If your team are needing to switch out coils every three hours or so, having to collect and change coils from far away can waste over an hour each day," says Steve. "We ensure you get the equipment set up in the right place, and teach you good production techniques for CFS to ensure you save time and reduce wastage."
Still need more help? We have technicians available to train your team for a whole week or two. One of our technicians recently spent a month in Colombia, helping our client through the entire process of building their first 200m2 house from light gauge steel – from design right through to erection.
Regardless of how long we stay, this process ensures that our clients are armed not only with how to use the FRAMECAD System but also the knowledge of operating a best practice cold formed steel construction business – experience gleaned from working with hundreds of companies and years of practice!
Stage two: Servicing for longevity
Keeping your FRAMECAD System performing at its peak is a matter of ensuring it's properly serviced every year or every 160km/100miles of steel rolled. You'll receive automatic reminders, alongside preparation information for the service. This includes; confirming you have the right parts, oil, and rags available and making sure you know how much downtime to prepare for.
One of our technicians will come on site, test all the functions of the equipment, look for any signs of wear and tear on parts that may need to be replaced, and get your equipment back in shape for another year of use.
If preferred FRAMECAD can also train your organisation to do your own service and keep your equipment in top condition. "We will give you a full guide, access to our knowledge centre, providing checklists for what you need, and our constant support."
Stage three: Support for ongoing peace of mind
"As part of our system support agreement, you get access to just about anything technical online via our MyFRAMECAD platform," shares Steve. "Software support, equipment support, parts ordering, service support – it's all included."
With clients all over the world, and many organisations running two shifts a day, it's vital that support is available around the clock. Should a problem arise, or if you have any questions, you'll be able to lodge a ticket in MyFRAMECAD and – in most cases – you'll hear back from one of our team within an hour. That's due to having support teams in New Zealand, South Africa, Dubai, and beyond, ensuring there's always someone working no matter what time zone you're in.
"Our technicians are available 24/7, which is a real point of difference within the industry," explains Steve. "We are currently enhancing our ticketing system, which will measure our performance and help us continue to provide first class support."
After sales support varies significantly depending on each client's needs – whether it's technical support for equipment or software advice, requirements for new parts, or just questions around best practice.
At FRAMECAD, both software and manufacturing equipment are development and manufactured under one roof (literally – although we've got sales and support staff and technicians spread around the world, all our software and equipment are designed and built here in New Zealand). This end to end approach ensures that we can trouble shoot through all the components of your FRAMECAD system, understanding where the possible issue could lay. We've always got someone to help us solve issues quickly, with technicians able to pull on the knowledge of software developers, mechanical engineers, and the entire FRAMECAD team of specialists.
"We consistently get feedback on how fast we're able to fix faults. Our clients' ability to get support from us quickly is vital, and it helps us enable clients to be efficient, reduce wastage in time and materials, and turn a profit from their very first cold formed steel job."
FRAMECAD are pleased to announced a substantial enhancement to their FRAMECAD Care Support System, Available through the exclusive MyFRAMECAD Portal, our Customers Can now expect an ever faster and more efficient handling of their enquiries.
Talk to FRAMECAD today about how you can be a part of the world's only complete end -to-end system for cold formed steel construction.