The construction industry worldwide demands certified and compliant products. Building industry experts and government authorities in many regions around the world have collaborated to develop common standards for building products and construction techniques. Construction standards have now become so important that in many countries, it is not possible to build with products that have not been independently tested and verified and carry a recognized certification mark or label.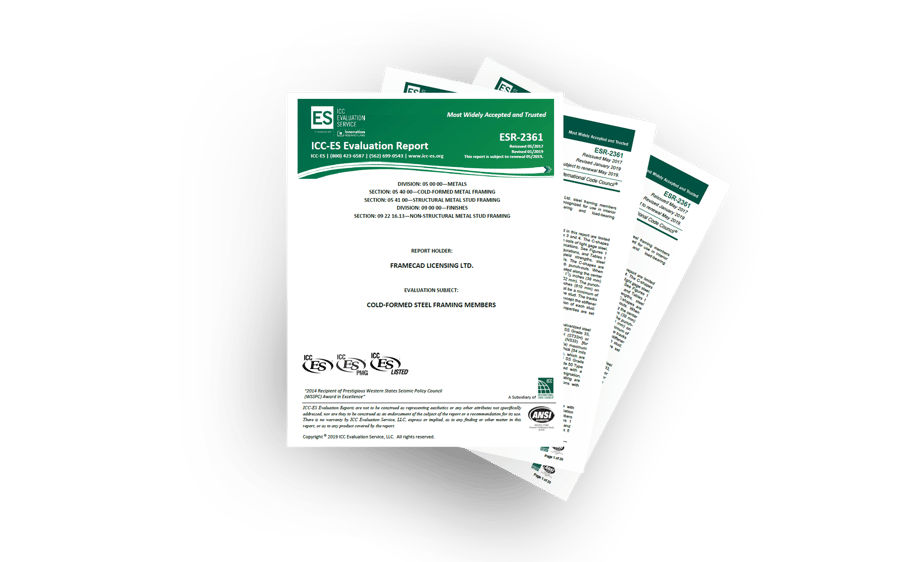 FRAMECAD manufacturing equipment and component parts can be confidently used for buildings anywhere in the world as they have been certified by the world's most recognized and accredited quality assurance and certification organizations. See more details on them below.
ICC-ES
FRAMECAD holds an ICC-ESR evaluation report that covers the full range of profiles that our cold formed steel framing systems and manufacturing equipment produce. This ensures compliance with the US building codes and standards (ICC ESR 2361).

ICC-ES is widely recognized for its thorough technical evaluations, speed and gold standard in customer service. Having an ICC-ESR report can ensure that code officials will simplify and speed up the approval process for framing whilst providing credibility. This certification is important to developers and manufacturers as it not only speeds up the time it takes to pass inspections but also saves them money.
Benefits of Becoming a FRAMECAD ICC-ES Listee
As an ICC-ES evaluation report holder, FRAMECAD has already done the hard work. As a FRAMECAD system user, we can work with the ICC-ES to have your organization as a listee on our report. This means you can focus on growing your business whilst we deal with the technical requirements.

Being a Listee can potentially save you tens of thousands of dollars compared to applying for your own ICC-ES report. There is also the added benefit of further cost savings in the future around the introduction of new profiles and assemblies.

The time it takes to become a FRAMECAD Listee is very short - usually less than two months compared to around twelve months implementing ICC-ES process on your own. Find out more information here.
CE Evaluations
The CE marking on a product is a manufacturer's declaration that the product complies with the essential requirements of the relevant European health, safety and environmental protection legislation.

Intertek CCRR
Intertek is a multinational certification mark that ensures the quality and safety of products, processes and systems. Becoming a FRAMECAD Intertek (CCRR-0130) Listee also gives the opportunity to be listed as a certified fabricator for Intertek webbed joist fire-rated assemblies.

UL
The UL mark is a global leader in testing, inspection, certification, auditing and validation. The UL mark is also the single most accepted certification mark across the U.S. As a FRAMECAD system user and a listee on our ICC-ESR report (or on our Intertek CCRR report) you have the ability to become a UL certified fabricator of the FRAMECAD fire-rated truss assemblies.
Developers and manufacturers can be assured that by using FRAMECAD software, equipment and components, they are using a system that produces profiles that are credible and fully compliant with worldwide building codes and standards.

Find out more information on all of the FRAMECAD systems here.
Author – Nader Elhajj
---