FRAMECAD is currently working hand in hand with Red Cross to deploy the best Design and Build solution to rebuild the Vunikaikaloa Arya School in Fiji, destroyed in February / March 2016 by the the passage of the Cyclone Winston.
Click here to discover how the Vunikaikaloa School in Fiji is progressing.
FRAMECAD are a supporter of the Build Back Better and Safer Programme supported by many humanitarian organisations which is designed to take into account recurring fierce environmental factors (cyclone, earthquake) and ensures that the design and the construction robustness offer the highest resistance to these environmental challenges.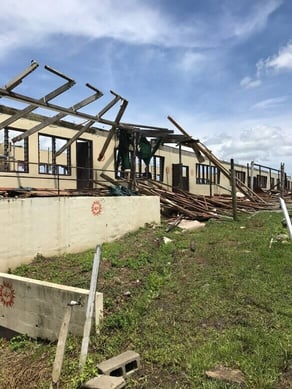 This will result in a new school construction being:
- Able to withstand the challenging environmental factors in Fiji
- Completed in a very short period of time
- Safe, secure and sustainable for the local population

Photo (above) of the reconstruction of the school in progress
The Innovative FRAMECAD Building Technology enables to support humanitarian initiatives such as the rebuilt of the Vunikavikaloa Arya School in Fiji. The Build Back Better And Safer program aims at constructing more rapid, fast and safer buildings for communities affected by environmental disasters.