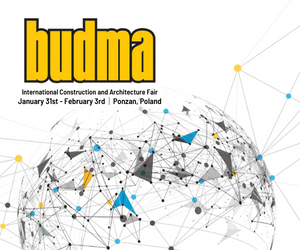 Join FRAMECAD in person at BUDMA in

Poznań, Poland
Visit our stand to discuss how the FRAMECAD system delivers advanced design-led methodology to increase your project productivity.
BUDMA
When: Tuesday 31st January - Friday 3rd February
Where: Poznań International Fair (międzynarodowe targi poznańskie), Poznań, Poland
Pavillion: P06_PA
Stand: 3

Poland's International Construction and Architecture Fair, BUDMA, is Central-Eastern Europe's most important construction event. Over the 4 days the latest products, technology, and services will be on display. With over 1,000 exhibitors, all sectors of the construction industry will be represented, from windows, gates, walls, ceilings, and floors to steel and eco-construction.
There will be a Hosted Buyers Program as well as an International Meeting Zone which will create an environment where great business relations can be formed. As well as plenty of presentations and competitions where You do not want to miss BUDMA, the International Construction and Architecture Fair, register for tickets now.
Here's what you can learn at the FRAMECAD booth:
The easiest way to engage cold formed steel in construction
How to reduce engineering costs, whilst adding value into your structural designs
How to avoid expensive labour costs and rapidly accelerate the construction process
Construct highly accurate buildings with the FRAMECAD end-to-end system for cold formed steel
Want to book a personal meeting with a FRAMECAD expert?
Click below to let us know what time is good for you.
To learn more about the benefits of CFS construction, download our eBook, 'The Future of Construction' below.