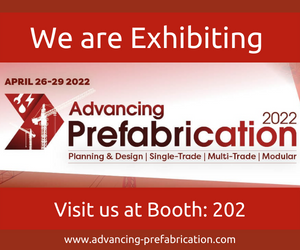 Join
FRAMECAD
®
in-person at the
Advancing Prefabrication 2022
April 26 - 29, at Phoenix Convention Center, Phoenix, Arizona.
Our team will be at booth 202 to discuss how the FRAMECAD® system delivers advanced design-led methodology to increase your project productivity.
The next big trends, strategies, and ideas. The products, connections and experts. It's all HERE at the in-person show in Phoenix!
Advancing Prefabrication is North America's premier thought leadership conference dedicated to revolutionizing prefab, modular & industrialized manufacturing approaches across the AEC supply chain.
Uniting industry leaders from every stakeholder, from project conception through installation discover how you can build faster, to a higher quality, with limited resource through prefabrication, modularization & supply chain transformation.
The show features: 140+ expert speakers, market specific focus days, 900+ expected attendees, 9 insightful workshops, and an exclusive workshop for senior business leaders and executives to help shape their own strategic Industrialized Construction roadmap.
Our cold formed steel experts will be on-site to answer all your questions.
Here's what you can learn at the FRAMECAD® booth:
The easiest way to engage cold formed steel in construction
How to reduce engineering costs, whilst adding value into your structural designs
How to avoid expensive labor costs and rapidly accelerate the construction process
Construct highly accurate buildings with the FRAMECAD end-to-end system for cold formed steel
Secure your tickets by registering now, they are limited so don't delay. We look forward to seeing you in Phoenix!
Want to book a personal meeting with a FRAMECAD expert? Click below to let us know what time is good for you.
To learn more about the benefits of CFS construction, download our eBook, 'The Future of Construction' below.